March 10, 2021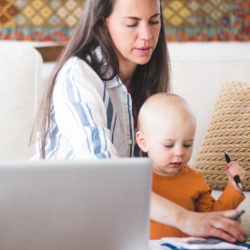 New data from Steelcase claims to highlight what the UK workforce is enjoying most about working from home, and which elements of work are suffering without access to the physical office. Nearly all (97 percent) of respondents want to return to the physical office for some or most of the time when possible, but nearly a year of working differently has altered expectations of the office, and businesses need to make vital changes to reflect this.
The UK is unlikely to see a mass return to work in the next couple of months, but with new vaccines providing a light at the end of the tunnel, businesses need to be proactive about understanding employees' concerns as they prepare for a workplace that embraces new modes of working.
The research from Steelcase includes findings collected throughout the pandemic across 10 countries and more than 32,000 participants, including business leaders and real estate decision makers in the UK. The findings claim that nearly a quarter of people (23 percent) feel they are less engaged due to working from home, while 22 percent are experiencing a worsening speed of decision making – potentially due to teams being siloed and a lack of communication between different departments. Nearly one in five (18 percent) are experiencing a drop in productivity, which can hurt both a company's bottom line and the UK as a whole.
However, working from home is not all bad. Unsurprisingly, the lack of commute has been a noted improvement, but the level of employees favouring this – over two-fifths (42 percent) – could be a shock awakening for businesses who have assumed people will be willing to travel for work. Organisations will need to design workplaces that are compelling enough to encourage workers to commute, or perhaps invest in more regional offices to minimize journey times. One third (29 percent) also reported enjoying the lack of office distractions while working from home, suggesting that pre-pandemic workspaces were not supporting employees for individual, focused work.
Many employees are working in less than adequate spaces.
"The pandemic has reshaped many aspects of our lives, including where and how people want to work," said Gale Moutrey, vice president of workplace innovation. "Their experiences working from home, and what they face when they return to the office, have influenced what they want and expect to see in the workplace going forward. The majority of workers will return to the office and their work from home experiences will provide the guidance for a new, better work experience."
According to data collected during the first lockdown, many employees are working in less than adequate spaces, due to increased distractions or a lack of room or equipment. Less than half of workers (46 percent) were working primarily or almost always at a desk and only a third (30 percent) would describe their workspace as comfortable.
With 77 percent of UK employees reporting that they would prefer to adopt a hybrid work model after the pandemic – and 54 percent wanting to work from home for 2 days a week or more – businesses need to improve standards for home working as well as office spaces. As the future of work is so unpredictable, organisations must take a holistic approach to ensure that employees are supported and engaged wherever they are.
Image:Steelcase