July 16, 2021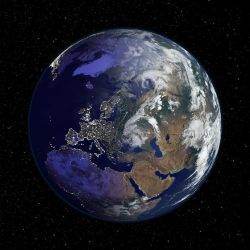 Most people now recognise that we are facing a climate emergency – the record breaking temperatures in the US are, perhaps, another reminder. Many would agree that economic and legislative change is the only way forward to achieve a sustainable change in behaviour. Who should pay for greater environmental responsibility? Is it time for a carbon tax to limit carbon hungry products and fund investment?
According to The Crown Estates' Sustainability Fit Out Guide for Offices, interior fit-out is responsible for 40 percent of the energy use associated with a building. Waste is a significant part of the problem. As quoted in the UK's Government consultation paper for the Waste Prevention Programme for England: "Waste prevention has huge potential: products and materials need not become waste. Products can be designed to support longer product lifetimes, and enable reuse, repair and remanufacture."
Rightly or wrongly, the onus is on manufacturers to adopt a more sustainable approach and develop processes to embrace circularity to carbon improve the built environment. For now, most brands are focussed on procuring recycled content or 'greener' materials for products and continuing with the established, linear manufacturing model.
There is a growing service industry of third party companies offering reuse and remanufacturing but it is still relatively small. Many buyers are still reluctant to accept the cost of responsible reuse of redundant products and embrace remanufacturing of their own assets.
The next hurdle for manufacturers will be how to embrace truly circularity and take back products and reintroduce components into the production process. There is, of course, an investment price.
The last few decades have been driven by the quest for greater efficiency to ultimately drive down the purchase price. Just-in-Time manufacturing reduced warehousing and stockholding costs but, as a result, it is now difficult and expensive for many manufacturers to restructure to facilitate reverse logistics, disassembly and 'triage'.
The waste problem
There is considerable debate about the proposed introduction of Extended Producer Responsibility Schemes for various 'bulky waste' streams including furniture and textiles. The 'polluter pays' principle – i.e. ensuring that those who place on the market products which become waste take greater responsibility for the costs of disposal – potentially puts another obligation on manufacturers. There is a view that the user has a responsibility and should share the cost.
Greater demands are being placed on manufacturers and suppliers to demonstrate the environmental credentials of their products. Additional requirements include well-being standards as well as the established, but subject to change, health and safety criteria.
Currently, there is no single, standardised mechanism for assessing the different technical standards of products. One of the reasons is that it will depend on the customer's focus – carbon reduction, health and well-being, reuse potential, fair trade, etc. Achievement of the various certifications is time intensive and costly.
Some buyers embrace the price associated with 'going green'. There is, however, still a temptation, particularly without any change to taxation or clarity in terms of how 'green' a product truly is, to revert to the lowest price.
Furniture as a service (i.e. paying a fee for the use of a product) or 'buy back' models have been cited as techniques for driving circularity. In the March 2021 budget, the Government announced that companies can claim enhanced capital tax allowances on qualifying assets including office furniture. Whilst the change is claimed to be temporary, and applauded by many, it certainly does not incentivise these 'circular' models.
Countries, such as Canada, are introducing carbon taxation – perhaps this is the answer? Would such a tax penalise the low priced, non-reusable furnishing products? It is complicated as how would products be assessed? Can SME companies developing innovative 'green' products afford the cost of certification to benefit from a carbon tax? How can actual reuse as opposed to the potential for reuse be rewarded? It is important to incentivise true reuse. Charitable donations of products are great but is this approach simply 'kicking the can down the road'? What happens to the products once they become redundant with the charity?
Would a carbon tax help finance the cost of the change to greater sustainability? Could funds be 'ring fenced' to help commercial companies invest in greater circularity and eco design? Would it 'level the playing field' in terms of price for low cost, non-reusable products versus more environmentally-positive alternatives?
We are running out of time. Government action is notoriously slow but we cannot rely on voluntary measures to achieve sustainability. Someone pays! Hopefully not the planet.