July 16, 2021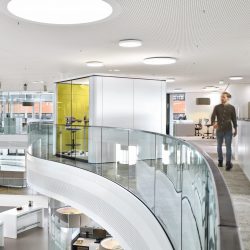 Heidrick and Struggles has released the results of a new global CEO study Aligning Culture with the Bottom Line: How Companies Can Accelerate Progress which found that intentionally building a company's working culture can impact the company's financial performance in a number of ways. The survey of 500 CEOs across nine countries examines how working culture propels organisational performance in Australia, Brazil, Canada, China, France, Germany, Spain, the UK and the USA.
A group of respondents referred to as "culture accelerators" were identified during the study. This group of CEOs were found to be significantly more intentional in the way that they focused on culture than others. Their companies showed double the Compound Annual Growth Rate (CAGR) of others surveyed for the same study, suggesting that organisational culture can drive overall financial performance. Around 10 percent of UK CEOs surveyed were found to be "culture accelerators" compared with 11 percent elsewhere.
Fifty CEOs in the United Kingdom were surveyed, with CEOs in Britain ranked highest in the world for adopting personal leadership and positive role model attitudes in order to effect organisational and cultural change in their respective businesses. UK CEOs prioritise engagement with their employees far more than their global counterparts and are keen to personally promote organisational culture and systemic alignment between culture efforts and other company processes. UK CEOs were also the most likely to assess their company culture by looking at their employee retention rate.
However, only 70 percent of British CEOs said they had actually made culture a key priority over the last three years, compared to 82 percent of CEOs surveyed overall. UK CEOs ranked agility and innovation as the most important factors for financial performance while CEOs in other parts of the world leaned more towards the likes of strategy and leadership when asked the same question.
UK CEOs were also among those who most often said their goals for undertaking culture efforts were navigating the pandemic and the many new ways of working that have now entered the cultural norm. The study showed that UK CEOs viewed increasing employee engagement as one of their main goals of culture; at 26 percent, they were aligned with the global average, and slightly higher than Europe's 24 percent.
Out of all those surveyed, UK CEOs frequently chose ensuring performance and reward processes are aligned with the culture and promoting the culture across the company, starting with the board of directors—at 28 percent each, higher than the global average of 24 percent and 25 percent, respectively.