May 9, 2023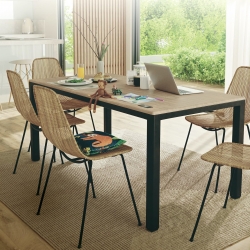 Jiecang, one of the world's leading supplier of linear actuators, in conjunction with the Austrian brand Logicdata, a European company that has been part of the Jiecang Group since 2021, is offering a wide range of technological solutions to make office furniture more dynamic, smart, and interactive.
The continuous evolution of the way we work and interact with colleagues and customers along with the constant pursuit of well-being as a key to stimulating creativity and increasing productivity are transforming the office into an increasingly hybrid, dynamic, flexible, and multifunctional space that allows people not only to work more efficiently, but also to live, socialise, and gain experience. The working environment must be rethought in such a way as to put people at the centre, with the help of new furnishing solutions that are functional, capable of meeting everyone's working needs, and ergonomic to guarantee the right level of comfort, health, safety, and concentration.
BE AGILE. BE READY is the slogan for the new collection of lifting systems presented by Jiecang at the 51st CIFF Guangzhou 2023, which closed its doors on 31st March. Innovative technology systems for electrically height-adjustable desks, height-adjustable and folding tables, lifting systems for tables of varying sizes inside phone booths, and lifting systems for screens. The lifting system for desks adopts high-level collision safety technology, ZOOM rapid lifting technology, EZ quick installation, and internal column wiring, as well as IoT (Internet of Things) technology to offer unique value to users in both business and home environments.
Presented under the Logicdata brand were LOGICleg, an advanced and highly stable brushless motor lifting system that can be customised in design and colour and meets the main international certification requirements, and LOGICflex X, a height-adjustable and multifunctional smart desk system.
In view of the rapid growth of the eSports market, Jiecang presented the Invictus gaming table, which has unique features compared to the competition: It's stable, meets all international standards, is equipped with an excellent cabling system, and can be customised.
Jiecang offers its international customers state-of-the-art solutions that are the result of the work of its R&D centres in China and Austria, which have produced more than 600 patents to date, as well as the experience gained from working with the world's leading office furniture brands and the use of top-class materials, technologies, and production systems. Solutions that can be customised to meet the needs of each partner, guaranteed and certified to meet all international standards, available quickly, and extremely easy to install and use.
Solutions that are true sources of inspiration for the creation of new smart furniture elements and the design of agile working environments, inspiring Jiecang to focus on developing the future generation of linear actuator products.