May 5, 2023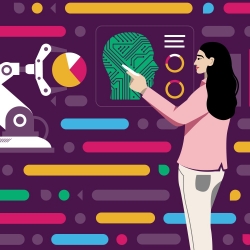 The new Slack State of Work Report [registration] claims that companies are missing opportunities to unlock new levels of employee productivity with new technology, hybrid working, and talent development. The report, based on a global survey of more than 18,000 desk workers – including 2,000 in the UK, found only 23 percent of companies are investing in technology to improve productivity and efficiency (21 percent in the UK), and just 27 percent of companies are using AI tools to help do so.
The report suggest that many organisations are 'stuck in old ways of working and antiquated approaches to driving productivity'. According to the poll, employees say they are spending on average 32 percent of their time on performative work that doesn't contribute to company and team goals but is done to appear productive. This is also true for 30 percent of UK employees A third of executives are tracking activity metrics (e.g. hours worked, emails sent) among their employees, but only 15 percent of employees believe doing so helps their productivity.
The report claims there are three trends defining modern work and driving employee productivity today:
New technologies, such as AI and automation, are largely not implemented.
Office work and design are being redefined in the age of hybrid working.
Employee engagement and talent development also directly impact productivity.
Unsurprisingly, the report suggest that AI and automation capabilities have the potential to streamline and optimise repetitive, time-consuming tasks, allowing employees to focus on higher-value, strategic work:
Those who have adopted AI at their company are 90 percent more likely to report higher levels of productivity than those who have not adopted AI UK workers who adopt AI, compared with those who have not adopted AI, are 51 percent more likely to report higher levels of productivity.  
Most (77 percent) employees, including 78 percent in the UK, say that being able to automate routine tasks, such as getting expense report approvals, would improve their productivity.
Those who use automations at work estimate saving an average of 3.6 hours a week – this equates to at minimum one working month a year* given back to each employee to focus on meaningful work. In the UK, workers save on average 3.3 hours a week.
However, 60 percent of employees say their company has not incorporated AI tools to support their productivity. And 43 percent say that their team has not created automations to make their work processes easier or more efficient.
The authors claim that 'in the age of hybrid working, employees are looking for flexibility and an environment that fosters collaboration and inclusivity':
More than half (52 percent) say that flexible work schedules is one of the best ways for their employer to support their productivity.
Employees say flexible location (36 percent), unique workplace benefits or office improvements, such as more meeting rooms and quiet areas (32 percent), and encouraging people to bring their whole selves to work (25 percent) also enhance productivity.
More than a third (35 percent) of employees cited coordinating or collaborating with other teams as a key challenge faced by their immediate team. In fact, a majority (80 percent) say that having the right technology to collaborate from anywhere (share knowledge, drive projects forward, etc.) would improve their productivity.
However, only a few executives are using modern strategies to improve how employees work with each other – wherever they are:
Just 21 percent of executives are making changes to the physical office, such as quiet libraries, collaboration spaces, and larger social lounges.
Only 19 percent are encouraging asynchronous work and hybrid working, for example when sharing status updates. More than a third (35 percent) of employees cite spending too much time in meetings as a top productivity challenge. In fact, employees say that 43 percent of their meetings could be eliminated with no real adverse consequences.
Job satisfaction, engagement, and mental wellness are also top factors that contribute to productivity, so it's crucial for leaders to consider these areas as part of how they redefine and drive productivity, says the report:
A majority (82 percent) of employees say that feeling happy and engaged with their organisation would improve their productivity. This is the same for just over 8 in 10 UK workers (83 percent)
Employers need to also prioritise wellness, as 53 percent of employees – and 56 percent in the UK – say that they feel pressure to respond to messages quickly, even if they're sent after standard working hours.
Managers play a key role in shaping work culture and need to be armed with people development skills, tools to drive efficiency and manage teams, and team wellness support. However, they face challenges in creating a healthy and productive environment:
Forty-three percent of people managers cite helping their team stay motivated as a top challenge. This is compounded by the fact that one-third (33 percent) of employees say that staying aligned on overall company goals and direction is a hurdle to productivity.
Also, more than a third (36 percent) identify spending too much time on tasks like meetings and emails, and the same number say helping their team have a good work-life balance, as additional challenges.