September 11, 2020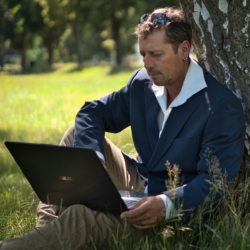 Covid-19 has changed the profile of today's jobseekers and as such, an organisation's purpose is valued more than ever suggests new research from the recruitment agency Hays. Of the 13,500 surveyed, four in five (81 percent) professionals say working at an organisation that has a strong and positive purpose aligned to their motivations is important when considering a new role. Close to half (42 percent) say this has grown in importance since the outbreak of Covid-19.
Organisational purpose is most important to professionals at a middle management level (83 percent) when looking for a new role and is most valued by Generation Y (born between 1982 and 1995) (82 percent). Encouragingly, 83 percent of employers recognise that their organisation's purpose is important to help them attract new talent.
Work-life balance and job security still high priorities
Work-life balance is also of high importance for today's jobseeker, as a quarter (25 percent) say it is their top priority when considering a new role. This is slightly higher than in May when 21 percent said it was their top priority, but overall has decreased from this time last year (31 percent). Currently, over half (55 percent) of respondents rate their work-life balance positively while it remains average for about a third (30 percent).
Job security is the most important factor for 23 percent looking for a new job, more so in the public sector over the private sector (27 percent and 21 percent respectively). Findings from last year show that job security has increased in importance for jobseekers over the last 12 months (important to just 13 percent of respondents in 2019).
"Reassure candidates about the security of the position."
Gaelle Blake, UKI Director of Hays Permanent Appointments, said: "While it's clear that much of our world of work has dramatically changed, what's less obvious is the subtle shift in the priorities and expectations of jobseekers. Our findings show that organisational purpose – that is, the motivational force which drives an organisation to meet its goals – is now more important to jobseekers than it has perhaps ever been.
It's encouraging that employers realise the benefit of a clear purpose for attracting talent, but the challenge is bringing this to life throughout the recruitment process. It isn't as simple as stating your organisation's values – instead, your purpose and mission statement must be woven into the language of your job ads, on your website, discussed in interviews and factored into any candidate assessments.
However, to really appeal to today's jobseeker, make sure you offer benefits which are conducive to a positive work-life balance and that you reassure candidates about the security of the position. Job security is naturally particularly important at the moment and has huge bearings on your talent attraction."
Image by Anrita1705