September 22, 2015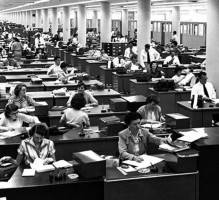 I was lucky to enter the office furniture industry in 1971, at the beginning of a decade shaped by the explosive advent of new office technology. What had gone before would not have looked that different to anyone who'd worked a corporate office in the 1890s: serried ranks of desks occupied by clerical staff bashing away on manual typewriters and comptometers (calculating machines). Although electric typewriters had been around for most of the century, decades of global conflict had constrained their development. The first major advance came with the launch of the IBM Selectric golf-ball in 1961. Although a beautiful object – I recall this being the first item associated in my mind with the term 'product design' by a named designer (Eliot Noyes) – it remained expensive and rare until the price reductions driven by the multi-licensing in 1972 of the Diablo daisy-wheel print head.
Also in 1970 – thanks to the miniaturisation/cost reduction effect of microprocessor development – came the first pocket calculator. This was followed in rapid succession by the introduction of the first scientific calculator by Hewlett Packard. Thereafter, in what seemed like the blink of an eye, log tables and slide rules were consigned to the dustbin in science, technology and education departments – and access to this type of work was opened up to a far wider, less specialist group of users.
Throughout the rest of the decade distribution burgeoned thanks to tumbling prices and the enhanced desirability of smarter, slimmer designs employing lower energy liquid crystal displays.
The first furniture system I worked on was Link 900 for Carson in 1974; developed in conjunction with Click Systems. To overcome the scale limitations of photography in this pre-CAD era we built a fifth scale model of the product and shot this in conjunction with full-scale layouts and details to create the colour brochure. I think the design stands up very well today, more than 40 years on.
In 1975 I left to run the design and space-planning studio for the Project Group (Project Office Furniture, Druce and Library Design and Engineering). Although I stayed for 6 years almost all the work was of an interior design and space-planning nature – and very little of the product work I did made it into production – so in 1980 I moved on to the Kasparians Division of  Flexiform. Unfortunately the parent company in Leeds was already in dire financial trouble and the whole group was placed in receivership just 6 months after I joined. I did however manage to complete a transfer of technology deal to manufacture a Swiss task chair programme under licence. I moved on to GA Harvey in Margate in 1981 as Design Manager. This was my first hands-on experience of working for a mainstream steel storage manufacturer.
Although the 1980s rapidly developed into the decade of the personal computer, I clearly remember a largish proportion of the capital budget for George Harvey – my first full-blown office furniture system as a design department manager in 1982 in conjunction with Geoff Hollington – being expended on a huge moulding for the typewriter "well" (because of their extreme height the machines needed a section of the worksurface to be lowered, so that the keyboard was anthropometrically correctly positioned.
It is interesting to note that all the brochure pictures above are hand drawn/painted illustrations. What might not be so obvious is the way we integrated existing steel storage programmes into the system by the application of a common handle profile attached to the horizontal and vertical edges of all doors, drawers and tambour shutters. This kept the development programme within the personnel and financial resource limits of the company.
After George Harvey we designed a simpler, lower cost programme for the Dealer market called Harvey 8. This used welded rectangular tube for the C-frame legs, uniquely employing the vertical member as a no-cost riser for the cable-management system. The tops were equally innovative; comprising a bonded sandwich of pre-coated steel skins with a foam core, to provide a panel of such innate stiffness that no transverse rails were required.
The pre-coated finishes were a natural oak and grey-stained oak – which for many months featured in a Halifax television ad – and seemed to kick-start the whole trend for colour-washed timber finishes in office furniture. The programme won a European Coil-Coaters Award.A skill that we seem to have lost with the advent of cheap digital photography is the use of hand sketches to plan brochure photo-shoots.
After Harvey I joined Desking Systems as Design Director Designate in 1987. In the 22 short months I was with them we managed to design and produce a wholly new frame-and-panel based screen programme to support their various existing desking ranges, called Interface.
This addressed the then current obsession with segregated power, data and comms cable-management at every level and every direction, enclosed by upholstered and glazed cladding "tiles" reflecting the various working and storage heights. I did however manage to introduce a new component, in the form cove, quarter-round and triangular shaped corner pieces. This was a way of both handling the transition between heights and of introducing a playful architectonic element  to the office landscape – in the manner of a Philip Johnson or Michael Graves Post-modern building.
This was also the period of introduction to mainstream CAD for me. I bought 4 x 80386 (32-bit) PCs running AutoCAD which cost more than £5,000 per "seat", to be shared between the product designers and space-planners in my department. This inevitably led to priority conflicts and staff used to work nights to "sweat" these highly valuable assets. Seems totally alien in the current world of ultra-cheap computing?
We also established a showroom in the newly-opened Building Design Centre in Islington and in 1987 participated in the Top Office show at the same venue, where we created an office space for the fashion designer Geoff Banks. This was featured in our in-house magazine Desktop.
In 1989 I joined Bisley, initially to run the design side for the recently acquired Office Kit division, but later broadening my role to include all product design activity. With me from Desking Systems I brought Phil Fenton and Chris Fowler and in the early period we concentrated on bringing the Office Kit programme up to date.
We also started marketing some of the existing Bisley storage programmes through what was essentially the forerunner of our Systems Division – and in 1990 we succeeded in selling more than 3,000 special 2.2 metre tall Side-opening Tambour units to Clifford Chance for their new London Wall HQ building.
This taught me the true importance of being involved in a project at the earliest possible stage and working closely with the client to develop the best solution – thereby cementing ones front-runner status before the tender process gets underway. Having been through the experience it's quite easy to spot when one is merely fulfilling the status of a makeweight, being brought in late simply to make up the numbers. Although sometimes the possession of a unique, "killer" product can ensure success from a late, unpromising start, it's important to know how to read the signs and disengage when it's clear that all what lies ahead is a lot of work and expense with no hope of a possible return.
The 90s was arguably the key decade in terms of the growth and development of Bisley; as we expanded our product base to include types of steel storage suitable for integration by office furniture OEMs. Key amongst these was the Bisley Universal Pedestal from 1991 and the Lateralfile programme from 1996.
The latter coincided with the opening of our Great Portland Street showroom and our employment of specialist sales and support personnel to address the A&D sector.  Our International division was also expanding through this period, as we opened sales subsidiaries in Benelux, Germany and France. By a combination of these actions we broadened and raised the profile of the Bisley brand to the point where it expanded and enhanced the image of the company to one of blue-chip, global reach.
The Wings desking programme of 1993 was developed for our Benelux subsidiary and thus featured distinctly European style and planning cues. That said, in the later years of its production it attracted quite a loyal following in the UK. The screen programme we developed for it in conjunction with Derek Treadwell was also quite groundbreaking in terms of the slender, tapered frame-less construction, which was used across both the freestanding and desk-mounted variants. It was internally dubbed the TGV (Train à Grande Vitesse) – after the high-speed French train which the smoothly blended top rail rather resembled.
From the mid 80s onwards Bisley has exhibited at domestic and international shows, including Spectrum (which later morphed into Design Prima) in London, Orgatec in Cologne and Salone Ufficio in Milan. We have always sought to use these shows to demonstrate our manufacturing capability and design creativity, in which objective it is to be hoped we have largely succeeded?
We have also been emboldened by the creativity of designers and clients with whom we have worked into trying things which we may not have tackled if left entirely to our own devices. I'm thinking particularly of the BBC in this regard. Some product variants which started life as client specials have moreover been successfully incorporated into our standard portfolio.
In 1998 we merged the BUP and subsequent Bisley Economy Pedestal (BEP) into a single platform based programme called the Bisley Integrated Pedestal (BIP). This remains as the basis of our mainstay upper value pedestal offer to this day.
The 2000s saw the introduction of SystemFile and Towers in 2000, a high density mobile programme for the front office called InnerSpace in 2004, Note and Wave Pedestals in 2006 and Bite – a unique trolley for bench desk application – in 2008. We also expanded our international sales reach, opening subsidiaries in Spain, Ireland, UAE and USA.
The 2010s could be said to be as important a watershed decade as the 90s in terms of step-change development for Bisley. Starting rather conventionally with the introduction of Glide and MonoBloc Lockers in 2010, we swiftly moved on in conjunction with Radar Design to the development of what was initially called Console – but which later morphed into Be as we refined and developed it for launch in 2013.
In essence we were acknowledging the fact that it is no longer possible to consider office furniture in terms of the traditional discrete elements of worksurface, seating and storage. A combination of the post banking crisis economic squeeze, liberating advances in communication technology and a heterogeneous staff mix of Baby Boomers, Gen-x'ers and New Millennials has altered the office landscape forever. Individual and team work can just as easily be undertaken at occasional furniture in a break-out or catering area as it can be at a traditional workstation or in a meeting room.
What the new millennium office requires is a mix of furniture types than can be flexed to suit changing needs – and this requirement can only be truly met by a fully integrated furniture system that has been conceived from the ground up with this objective in mind. Anything less will result in fudge and compromise. Be starts with the basic building block of a portal frame with four fully addressable faces that can be populated with a variety of fittings and accessories to turn it into a multiple of furniture types.
The concept is so radical that in order to "sell" it internally we commissioned a comprehensive CAD-rendered video from Radar before the final design was drawn up. So effective and accurate was this that it is still in use in edited form today.
The product is loaded on Configura so that it can readily be planned, specified, purchased and installed and – just as importantly and as readily – be re-planned, re-specified, topped-up and re-installed to suit varied and changing furnishing need.
My swansong for Bisley was Stage; a crossover furniture platform for home office and SME corporate office application. Developed by them from an idea brought to me by Barry Jenkins of Broome Jenkins, the programme features a lightweight, elegant natural anodised aluminium frame supporting steel, timber and glass shelving in conjunction with timber worktops and steel sliding doors.
It was carefully sized to accommodate all the usual media and paraphernalia, as well as the most popular models of our iconic Multidrawer storage. Acknowledging that this is fundamentally a B2C product, I also commissioned a 3D configurator app for the iPad from Excitech, which enables every conceivable and viable configuration to be built, finished/coloured, edited, costed, measured/weighed, outputted and ordered.
A fitting way to end a very long and satisfying design career, in what turned out to be a fast changing but ultimately enduring business sector.
___________________________________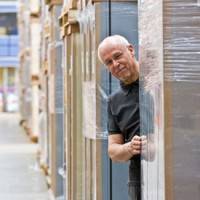 John Fogarty is a bona fide legend of the UK office furniture sector and is uniquely qualified to comment on the trends that have shaped the market and product design over the course of five decades. His  last role before his retirement from the industry was as special projects director of Bisley.