July 11, 2018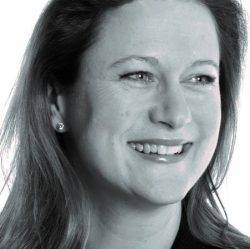 The British Council for Offices (BCO) today welcomes Katrina Kostic Samen as its new President. Katrina Kostic Samen, Founder and Managing Partner at KKS Strategy, formally takes over the position from Ken Shuttleworth, Founding Partner of Make Architects, at the BCO's Annual General Meeting in London today, Wednesday 11th July. As Chair of the BCO Annual Conference held earlier this year in Berlin, Katrina set out the vision for her Presidential year, challenging delegates to look at the workplace from multiple occupier perspectives, and to ensure that they are designing and delivering offices which are inclusive and provide for a diverse workforce.
Commenting on her appointment, Katrina said: "As technology evolves at pace, and the way we live and work changes, so too must our commercial offices. The recent BCO Annual Conference 2018 in Berlin focused on a key issue – how to design and build workplaces which are inclusive for a diverse workforce. At the Conference, I challenged delegates to redefine the BCO to mean "Building Communities for Occupiers" – to move away from thinking in old fashioned terms about creating a building, and instead shift to a more diverse and inclusive world where the role of placemaking is central. I will continue to extend this challenge to the BCO membership throughout my presidency.
"I will also work to make the BCO itself a more diverse organisation. 21% of this year's Conference delegates were female, a significant increase on previous years, and reduced-cost tickets saw 81 NextGen delegates attend. Throughout the rest of my presidential year I will look to build on this success, and to support and mentor our female and NextGen membership in particular."
Katrina started her career at Wilmot Bower Architects, before moving to Gensler where she was instrumental in setting up the firm's London office in 1989, and went on to become its first female Partner. After 19 years at Gensler, Katrina founded KKS in 2004, an all-female-led interior architectural practice based in London. The practice today both advises major developers and end users in the financial, legal, insurance, media and corporate sectors throughout the UK, USA and globally.
Katrina regularly speaks on best practice for workplace design, development criteria, and occupier strategy. She has been a BCO member since 2006, a Board Member for eight years, and will be the organisation's third female President.
A focus on a diverse workplace
Richard Kauntze, Chief Executive of the BCO, comments: "I express my sincere thanks to the outgoing President, Ken Shuttleworth, for his significant contribution to the BCO. During his presidency, Ken was a driving force behind the BCO NextGen design competition 'The Office of 2035', as well as leading a new programme of outreach to our membership through the President's survey. He also chaired our 2017 Annual Conference, held in London, presenting a thought-provoking programme of plenary sessions and tours, which was very well received by delegates. We are grateful for his commitment to the BCO, not just during his presidential year, but across the course of his 18-year membership.
"We are now delighted to welcome Katrina Kostic Samen as our new President. At the BCO's Annual Conference in Berlin this year, Katrina challenged delegates to consider the needs of a diverse workforce, and to build and design inclusive environments which foster creativity, connection, and productivity. She is also committed to growing our NextGen membership and continuing to develop the BCO's offering for young property professionals. I look forward to working closely with Katrina during her presidential year to promote this agenda".
A changing environment
Ken Shuttleworth, outgoing President of the BCO, adds: "It's a fascinating time for those designing and building offices. The President's survey highlighted the issues which matter most to members, so that the BCO can better address their concerns. It is important that the BCO as a body continues its sterling work in delivering the research and tools for us to navigate the changing marketplace. For example, evolving technology poses opportunities and challenges for our sector. The benefits of artificial intelligence and machine learning for businesses and their employees are becoming more and more apparent; likewise the rising popularity of office space provided on demand, enabled by smartphone apps, looks set to irrevocably disrupt the traditional model of real estate. Alongside this, we're becoming more aware of the importance of well workplaces, and of the need for our offices to provide inclusive environments for diverse workforces.
"Over the last year, the British Council for Offices has continued to provide knowledge and best practice around office excellence in the light of this changing landscape, through an impressive body of research as well as a brilliant conference. I extend my gratitude to the BCO for the work we have done together over the past year and I wish Katrina all the very best for her presidency."
Katrina's appointment to BCO President will see Paul Patenall, Director of Development Group, U+I become BCO Senior-Vice President and Robin Brodie Cooper, UK Partner, Gleeds, will become Junior-Vice President. James Clark will be appointed to the position of Honorary Treasurer (succeeding Robin Brodie Cooper).