August 27, 2013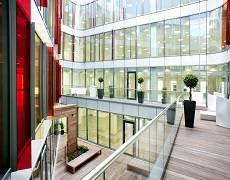 The relocation by law firm Davenport Lyons from London's Mayfair to its new offices at 6 Agar Street in the West End next month, means it is one of the last remaining West End-based law firms – most have moved out of the area due to the increasingly exorbitant costs. Davenport Lyons, which has been based in its current Old Burlington Street location for 23 years, says it remains in the area to form a "legal hub bridging the gap between the financial institutions and wealth in Mayfair, and the commercial banking sector in the city and Canary Wharf." The new office space is also designed to deliver a semi cellular space solution, reflecting the next phase in the law firm's evolution.
The move will of course bring some space savings by rationalising the firm's occupation of office space into one single location over three floors – giving the business just under 31,500 sq ft.  The re-location to the £65m Agar Street office block, owned by Legal & General and finished last year, will also deliver considerable savings, including a 27-month rent free period.
The office move, which takes place on 21st/22nd September, is part of Davenport Lyons' wider move to transition from a traditional Partnership, to a new breed of LLP. According to the firm the physical space itself reflects this change, as it is moving from a cellular office structure, to a 'semi-cellular' office layout with more open plan space, split out over far fewer floors than at the previous site.
The change also coincides with the appointment Richard Williams as Chief Executive Officer who said: "This West End location is important for us, as while other law firms have vacated the area in recent years, we remain committed to our heritage of being a West End firm, which we believe allows us to remain close to all of our clients – be they corporate, tax, litigation, property, media or intellectual property institutions.
"We believe that this office move will not only deliver our fantastic staff a much more engaging working space, but that it will also allow us to continue delivering the highest quality of legal advice and service offered to our clients in London and indeed around the world."