June 16, 2016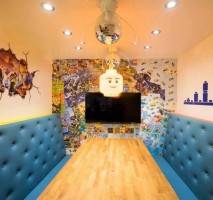 The UK market for flexible workspace has grown 11 percent in just the last 12 months. The main driver of the upsurge is inevitably London, which saw the biggest increase of flexible space at 16 percent and now represents a third of the whole UK market. According to the new research by The Instant Group, traditional occupier inquiries for London grew at a lower rate (nine percent), meaning the supply of flexible workspace in London has outstripped conventional office space by some margin over the last year; a trend the report suggests that seems set to continue into the future. Double digit growth for flexible workspace was also been seen across the UK's regions, with suburban locations seeing some of the UK's most aggressive growth in terms of workstation rates and inquiries, despite a 12.5 percent increase in supply, as occupiers have chosen cheaper locations with good transport links over the highly competitive market in central London.
Tim Rodber, CEO of The Instant Group, said: "Growth in what might be considered secondary locations in the fringe and outer fringe of London have been driven by occupiers seeking more competitive workstation rates in a booming market.
"This trend will continue through 2016 to 2017 with new locations such as Camden, Hackney, Clapham, Waterloo, Soho, Stratford, Marylebone and Vauxhall coming to the fore.
"There is still high demand in traditionally popular areas with strong transport links such as Kings Cross, Euston, London Bridge, and Oxford Circus but operators are struggling to acquire the right floor plates at competitive rates that would facilitate increased supply."
While enquiries for flexible space were up 21 per cent for the UK in total and 39 per cent in the regions, the growth in non-flexible office enquiries was up only 15 per cent (according to data from Estates Gazette).
| | |
| --- | --- |
| City | Increase in Enquiries |
| Brighton | 66% |
| Bristol | 51% |
| Birmingham (City) | 46% |
| Nottingham | 45% |
| Cardiff | 42% |
| Oxford | 31% |
| Edinburgh | 21% |
| Belfast | 21% |
| Liverpool | 21% |
| Manchester (City) | 20% |
According to the Flexible Workspace Review – UK 2016 the total number of business centres offering flexible workspace grew by 11 per cent across the UK in 2015/16 and now totals 3,290 centres (including co-working specific spaces).
Growth in enquiries for outer London was almost ten times that of inner London at 25.9 per cent.
Workstation rates across the whole of the UK are rising above the rate of inflation with the South East seeing the biggest increase in prices at 10 per cent.
Workstation rates and demand has fallen in Scotland where increased supply has not been matched by demand in Glasgow and Edinburgh, while the struggling oil and gas economy has hit the Aberdeen market.
Serviced offices that provide co-working as part of their offering rose 22.9 per cent in the last year.
London now represents 32 per cent of the total flexible workspace in the UK.
Click to download The Instant's Group's Flexible Workspace Review UK 2016 report