May 16, 2022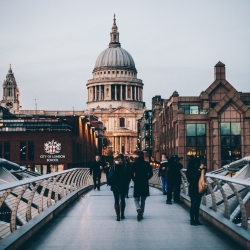 A study of the London office market from Gerald Eve suggests that there is now the highest number of lettings since before the pandemic with activity focused on smaller requirements and environmentally friendly buildings. Lettings between 10,000 and 20,000 sq ft made up a significant portion of demand with 713,000 sq ft (or 23 percent) of all activity, which totalled 3.1m sq ft in Q1. Tenants are now voting with their feet for best-in-class space, with sustainability at the forefront of decision making. Post-covid requirements continue to shape the criteria for office space as subjective business-linked or staff retention demands rank higher than overall cost in the search for office space.
Availability continued a downward trajectory, driven by two consecutive quarters of above-average demand. The rate now stands at 8.1 percent in Q1, down from 8.7 percent in Q4. However, tenant-controlled space remains a residual part of post-Covid availability in London, with a total of 5.6m sq ft still available, accounting for 26 percent of all availability.
Looking ahead, with Grade A rents remaining stable across all tracked submarkets, the report claims that the London office market can expect to see the incentives offered throughout the pandemic continue to fall away, with terms tightening as landlords react to improved demand and sentiment.
Construction costs in 2022 are forecast to be 5 percent above the expected level at the end of last year. This, coupled with wider shortages in materials and labour, poses an obstacle to the completion of new schemes. Despite this, 7.3m sq ft of office space is expected to complete in the remainder of 2022, a third of which is currently pre-let.
Q1 saw an increase of 13 percent in investment volumes compared to Q4 figures. This amounted to £3.5bn, sitting at 18 percent above the five-year quarterly average and can be attributed to the welcome return of overseas investment due to the relaxing of travel restrictions. Investment this quarter was characterised by large transactions, with half of the purchases made on lot sizes over £100m, with £3bn attributed to this segment.