October 2, 2018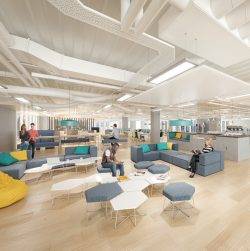 Serviced offices dominated office take-up in London's West End in August, mainly due to three big transactions resulting in a 44 percent market share, but the Tech and media sector continues to be the main driver for space. According to figures from Savills just shy of a third (31 percent) of take-up for office space this year has been to Tech and media sector occupiers. Similarly, West End and Central London requirements almost mirror demand from this sector, with the Tech and media sector accounting for 35 percent of the 4.3m sq ft of active requirements.
Meanwhile, The City had a quiet August as it prepares for a huge last quarter with a record 2.9m sq ft under-offer. Insurance & Financial services continue to be the source of the majority of demand in the City, accounting for 19 percent of take-up at the end of August. However, the Tech and media sector is close behind, accounting for 16 percent. Appetite from Serviced Office Providers also remains strong, as they account for 12 percent, with a number of large deals currently under-offer.
In the City the average grade A rent in the City currently stands at £61.91/sq ft, up on last year by 1.5 percent and up on the 10- year average by 23 percent. Total City supply stands at 6.85m sq ft at the end of August, equating to a vacancy rate of 5.4 percent, which is down on this point last year.
Savills say they are expecting to see a very active last quarter as total space under-offer rose to 2.9m sq ft, which is up on the long-term average by 123 percent, and the highest amount under-offer at the end of a month since their records began.
Total demand rose at the end of August reaching 10m sq ft of known requirements for the City and Central London, which is up on the long-term average by 14 percent, and the highest amount since August 2016.
The largest transaction to complete in the West End over the month was at 123 Buckingham Palace Road, SW1 with WeWork taking 40,987 sq ft on the 2nd floor, on terms which remain confidential at present. The next largest transaction was also to a Serviced Office Provider with the IWG Group taking the remaining office space (39,578 sq ft) at Battersea Power Station, also on confidential terms.
In the City – last month saw the first letting at TwentyTwo Bishopsgate, EC2 when Hiscox committed to 74,584 sq ft across levels 8 – 10. The Axa scheme is scheduled to achieve practical completion in July 2019, and they have also confirmed they will be occupying 60,000 sq ft upon completion.
Also in August, Softcat plc acquired level 5 (15,994 sq ft) at One Creechurch Place, EC3. They are joining Hyperion, Coverys, Enstar, Dell and Travelers Management Limited who have already taken space in the Helical scheme. With the ninth floor currently under-offer and Dell having agreed to acquire the remaining space on the second floor, only the fourth floor remains available.