August 5, 2021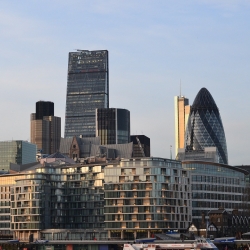 There was a spring in the step of the central London office market in Q2 2021 with more businesses committing to new office space, as plans to return to workplaces took shape. Research by DeVono Cresa claims that just over 1.98 million sq ft was transacted, representing an upturn of 21 percent on the previous quarter and the highest quarterly total since the outbreak of the pandemic.
With an easing of COVID-19 restrictions and a growing desire from workers to get back to the physical office, real estate plans that had been shelved are now getting dusted off.
At the half-year (H1) point, 3.62 million sq ft has been leased, down 35 percent on the long-term average, despite the recent increase in tenant appetite. Yet it is considerably above H1 2009 (+42 percent), the last period of significant upheaval to the office market/economy post the financial crash of 2008.
Three business sectors accounted for two-thirds (66 percent) of office leasing in Q2; financial services, technology and professional, with financial services representing the lion's share with 24 percent. The largest financial transaction was by Brevan Howard Asset Management, who took approximately 72,000 sq ft at 82 Baker Street on a sublease.
The largest deal of Q2 2021 was the subletting of 157,000 sq ft by IBM at the recently refurbished Shell Centre on the Southbank, opposite the iconic London Eye. This sees the global technology provider move just a short distance down the Thames, reducing its floor space by approximately a third in the process. This deal also highlights the reduction in space needed by energy giant Shell in its London HQ.
The average size of transactions has reduced from approximately 8,000 sq ft at the end of 2019 to 6,000-7,000 sq ft in 2020; however, our latest research suggests that this has fallen back even further, with the average deal size decreasing by 11 percent over the quarter to 5,873 sq ft.
"The world of work is in a state of transformation, the office remains integral to this"
Commenting on these figures, Shaun Dawson, Head of Insights at DeVono Cresa said: "As companies start to trial and embed new working practices, gaining a greater understanding of both people and space needs we do expect deal sizes to diverge from the long-term average. We are seeing larger corporates continuing to rationalise their footprints, whilst smaller firms are looking to futureproof their real estate provision, which may lead to an uplift in their space requirements."
Dawson continues "The world of work is in a state of transformation, the office remains integral to this, supporting emerging working practices and engagement with colleagues and clients."
DeVono Cresa research also claims that there is approximately 2.71 million sq ft of office space that is under offer. Whilst not all will complete in Q3 it will help support the momentum during the usual lull in activity during the summer months.
Image by NadinLisa