August 5, 2021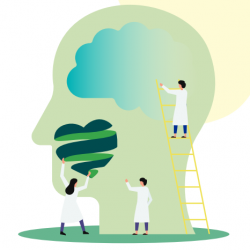 'Pleasanteeism' – the pressure to put on a brave face – is undermining efforts to promote an open dialogue about mental health at work, according to new research by Lime, which is urging the UK's businesses to take simple steps to help employees improve their mental health.
A new report – 'Keeping up Appearances: How 'Pleasanteeism' is Eroding Resilience' – claims that over half (51 percent) of UK workers agree that they feel under pressure to put on a brave face in front of their colleagues. A quarter (25 percent) of respondents who are returning to the workplace or have been working from home are worried about having to be the best version of themselves when they return to the workplace, while almost one in five (19 percent) are concerned about their stress being visible to others.
But, behind the scenes, people are struggling. Just over a quarter (26 percent) of respondents agree that they don't think they're coping at work, and over a third (34 percent) feel the same way about everyday life. This is taking a toll on the nation's resilience levels, leaving four in 10 (40 percent) feeling less resilient now than they did before the pandemic.
Findings
Women and young people are bearing the brunt of these challenges, with 43 percent of women aged 16-24 and 49 percent of young men aged 16-24 feeling less resilient now than they did before the pandemic. The sense of pleasanteeism is also more evident in women than men: 56 percent of women – compared to 45 percent of men – feel like they must put on a brave face for their colleagues, rising to 61 percent for young women aged 16-24.
Pleasanteeism is masking a mental health problem that could be catastrophic for businesses, which are already operating in a challenging environment. 44 percent of UK workers suggest that low personal resilience impacts their ability to do their job effectively, with many admitting that stress and poor mental health has caused them to have an unproductive day (28 percent), lose concentration or make a mistake at work (17 percent), forget to do something important (17 percent), or even call in sick (9 percent).
"The long-term repercussions of the pandemic are likely to be felt for years to come"
Currently, only 16 percent of respondents feel their mental health is very well supported at work, despite 81 percent wanting their employers to support their mental wellbeing. 42 percent of respondents agree that they expect their employer to do more – and 40 percent even admit that they would look for a new job if their employer didn't do so.
Findings from the report suggested that workers would welcome simple initiatives such as employers being more mindful about workload and work/life balance (25 percent), greater flexibility in working hours (22 percent), time out to deal with personal commitments (20 percent), and mental health days off work (20 percent).
Shaun Williams, CEO & Founder, Lime Global Ltd, commented: "The past 18 months has had a huge impact on people's lives, including on their mental health and resilience. The long-term repercussions of the pandemic are likely to be felt for years to come, and it's important we act now to be aware of and prioritise both our own mental health and that of those around us."