November 9, 2021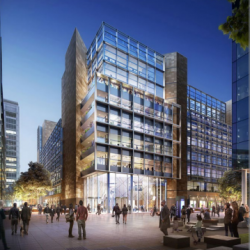 Research from Gerald Eve has highlighted a strong resurgence in activity in the London office market in Q3. Occupier take-up increased 30 percent to 2.8 million sq ft, driven by large commitments by major London occupiers. It was the highest level of occupier activity since before the pandemic and only 7 percent below the five-year quarterly average.
Gerald Eve's latest London Markets research suggests that the growing activity in the occupier market is down to businesses having a better understanding of the implications of hybrid working policies and seeking out higher quality space that better meets their post-pandemic needs.
This trend is being led by the renewed confidence of larger occupiers, with 10 lettings of over 50,000 sq ft during the quarter, totalling around 1.3m sq ft – 45 percent of all activity and one of the highest proportions on record.
The trend is further evidenced by the emergence of a two-track market: a slight increase in central London availability (from 9.4 percent to 9.6 percent) and increases in Grade A rents in prime areas such as Fitzrovia suggest the market is polarised, with intensifying occupier demand for best-in-class space and softening demand for secondary offices – particularly those with weak environmental credentials and limited amenity provision.
"With travel opening up, we have seen some pent-up demand from overseas investors"
This is only likely to be exacerbated by rising construction costs following the continued global supply chain disruption and labour market shortages. General build costs are estimated to be up by 10.3 percent in the year to October, which is 3.2 percentage points higher than envisaged only a quarter ago. This will put further cost pressure on landlords undertaking refurbishment or redevelopment activities.
The widespread return to the office has also increased confidence in the investment market, with activity rising to £3.2 billion in Q3, up from £2.3 billion in Q2.
Commenting on the occupational market, Rhodri Phillips, Partner at Gerald Eve, said: "By the end of September, visits to the workplace had risen to their highest point since before the pandemic following 'back to school' initiatives from many employers. As businesses and staff find a new working rhythm, and competition for the best talent intensifies, the office has an important role to play, with our data suggesting that companies are acting decisively to secure high-quality space that fits with their business strategies."
Commenting on the investment market, Lloyd Davies, Partner at Gerald Eve, said: "Growing footfall in city centres and a recognition that an accessible and central base in the capital remains a priority for many London businesses mean investor confidence has returned. With travel opening up, we have seen some pent-up demand from overseas investors, who led the significant growth in volumes seen in Q3, with a clear preference for best-in class assets, long leases and diversified tenants. Increased global competition for the finite pool of prime London assets points to some yield compression in Q4."
Read the full report here.
Image:Gerald Eve