January 31, 2022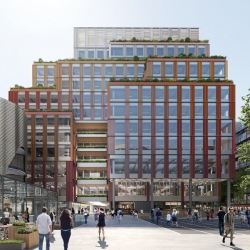 Avison Young's latest research claims that occupier activity in the London office market last quarter increased to 3.1 million sq ft, 27 percent above the previous quarter, to reach levels last seen in 2019 in what the report claims is 'a strong sign that London's occupiers are approaching their workplace strategies and office use with increased confidence'. The firm claims that nine deals above 100,000 sq ft were completed during the last six months, more than in the preceding eighteen months combined.
This figure also represents a 29 percent increase against the ten-year average and a 21 percent increase on typical pre-pandemic quarterly volumes. 132 individual deals completed in the period; representing a fourth consecutive quarterly increase in both the volume of completed transactions and in the quantity of space let.
With the London office market gradually building back its strength across 2021, this culminated in an end-of-year take-up total of 8.8 million sq ft – a 71 percent uplift on the letting volumes seen in 2020. Although this total is 9 percent down on the long-term average for annual take-up, this is reflective of the stringent restrictions the market was operating under for much of the first half of 2021.
Key statistics and highlights of the occupier market in Q4:
Total office space take-up across Central London increased for the fourth consecutive quarter, totalling 3.1m sq ft in Q4 2021, a 27 percent increase on Q3 and the largest amount of quarterly space let since Q4 2019.
Allen & Overy's 267,000 sq ft letting at 1-2 Broadgate, EC2, was the largest deal of the quarter. This was supplemented by a further 14 deals above 50,000 sq ft – which is the highest volume in a single quarter within this larger size band recorded in London since the global financial crisis.
This quarterly total comprised 132 individual deals – representing a fourth consecutive increase in the volume of completed transactions (as well as space let).
Occupiers within the tech & creative sector were paramount in driving quarterly take-up, accounting for more than 30 percent of overall activity. This was followed by the professional services sector and the financial sector which accounted for 23 percent and 16 percent respectively.
As letting volumes improved across 2021 availability has begun to taper off, having risen for five consecutive quarters across 2020 and early 2021. The amount of available space now totals 20.7 million sq ft, which, although reflective of a 3 percent drop against the previous quarter, is still 33 percent ahead of the ten-year average.
The central London vacancy rate has marginally fallen to 7.2 percent, down 0.1 percentage points on the previous quarter – almost two percentage points ahead of the post-GFC typical vacancy rate for Central London.
The report claims that momentum was maintained in investment in the London office market at the end of 2021, as a total of £3.5 billion transacted over the last three months of 2021 – slightly ahead of the 10-year quarterly average and representing a 16 percent uplift on Q3 turnover.
This means that across the whole of 2021, almost £12 billion was invested into London offices. While this figure is 15 percent behind the ten-year average for annual volumes, it represents a 53 percent uplift against activity in 2020 and is 29 percent ahead of 2019 investment.
In spite of travel restrictions, overseas buyers comprised 71 percent of annual turnover, as North American and European buyers were particularly active in targeting London office assets for steady returns in an uncertain environment.
Key statistics and highlights of the investment market in Q4:
Q4 2021 saw £3.56 billion transact, representing a 16 percent uplift on Q3 turnover, and marginally ahead of the 10-year quarterly average.
Across 2021 as a whole, almost £12 billion was spent on London office assets – 15 percent behind the ten-year average for annual turnover, but a 53 percent uplift on 2020 volumes and 29 percent ahead of 2019.
The largest individual deal of the quarter saw US media giant Omnicom acquire its own London headquarters at 2-3 Bankside, SE1, in a £440m deal – significantly above the original quoting price of £400 million.
Foreign buyers accounted for 73 percent of investment in Q4 and were responsible for a similar proportion of overall investment in 2021 as a whole at 71 percent, with North American and European buyers particularly active.
North American buyers dominated the investment picture in Q4 – accounting for nearly 40 percent of overall spend. This meant that they leapfrogged European buyers in the standings for full-year investment into London offices, with the latter comprising 25 percent of turnover as against 28 percent for the North American cohort.
The West End was the most active submarket for quarterly investment, attracting deals worth £1,282.2 million, while the City saw £406.2 million in turnover.
£2,508 million of investment came from overseas investors, while UK property companies provided £474.1 million of investment and UK institutions £442.1 million.
Prime yields remained stable across Central London – these are 3.25 percent in the West End and 4.0 percent in the City.