March 14, 2018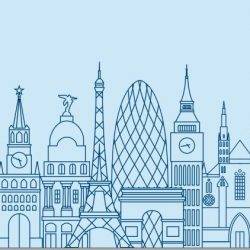 London has been ranked as Europe's most attractive city for businesses and employees for second year running according to Colliers International's latest European Cities of Influence report, which reviews and ranks cities based on their occupier attractiveness, availability of talent, and quality of life factors alongside economic output and productivity; Paris, Madrid, Moscow and Birmingham making up the rest of the top five. The report claims that the UK remains a highly desirable destination for capital and occupiers, largely driven by its 'magnetism as a centre of diverse high-quality service sector talent', which is in turn is helping to drive economic output and productivity. Other UK cities which score in the top 10 include Birmingham (5th), Edinburgh (7th) and Manchester (10th).
Madrid jumps high up the rankings into 3rd place, despite being only 8th in the inaugural study in Q1 2017. This is the result of a shift in occupier strength and attractiveness which has also run hand-in-hand with a significant jump in investment volumes in Madrid over the last year. In 2017 Madrid recorded a 72 percent increase in acquisitions, making the Spanish capital the third largest investment market in Europe for the first time as investors buy into the significant long-term potential of the city.
Perhaps the biggest surprise is Edinburgh, which is the only 'small' market (a population catchment of less than two million people) to make it into the top 10, despite not even featuring as a top 30 European investment market over the past decade.
"It is significant that the gold, silver and bronze positions in our Cities of Influence index mirror investment volumes over the course of 2017, suggesting that investor activity is becoming closer aligned to broader, long-term drivers of occupational growth," claims Damian Harrington, Head of EMEA Research at Colliers International.  "There are many cases where cities feature strongly in our index but, at present, do not perform as strongly as investment capital destinations. This includes some of the key regional UK markets, French regional markets such as Lyon, but also cities as diverse as Milan and Moscow. For some, this could be put down to economic conditions only truly turning the corner more recently, but also political conditions curtailing international investment, such as in the case of Moscow. For Milan, significant concerns over the banking industry and political uncertainty are holding back both investment and occupier growth. For the UK and French regional cities, however, the ongoing policies of economic devolution and more labour market flexibility should see a renewed distribution of capital into these markets, product allowing. When compared to the German Big7, and the major Nordic capitals, UK cities in particular look significantly under-invested, given their occupier strength and growth potential,"
This year's new extended version of the report looks at 50 major European economic hubs – building on the twenty cities covered in the inaugural report – providing a broad geographic coverage of European markets that are of global, regional and national importance.
Peter Leyburn, EMEA Director of Client Services at Colliers International, adds: "Office occupier strength is the engine room for a city economy and as a driver of all other forms of real estate demand: be it retail (and thus logistics), hotels, leisure and residential. Occupational strength will also help drive rental growth and longer-term this is the most important driver of capital value – especially in an environment where yields do not look capable of compressing any further in the vast majority of markets. So this analysis should be a good marker for where investment capital should go."
"Urban transformations and new infrastructure are also very strong drivers of investment growth. Given we are now approaching the peak of the investment cycle in terms of pricing, and thus volumes, the logical evolution of the cycle is to see a redistribution of capital into cities, illustrating a strong basis for occupier growth alongside those with new key infrastructure changes," says Richard Divall, Head of Cross Border Capital Markets at Colliers International.
Some additional highlights:
Zurich, Dublin, London, Edinburgh, Warsaw | In terms of the structure of the workforce of each city, the research also shows that Zurich, closely followed by Dublin, London, Edinburgh and increasingly Warsaw strike the right balance of workers in value-add modern professions including IT & communications, financial and business services and professional, technical and scientific roles. Many smaller and mid-size markets feature here, and it is of limited coincidence that the majority of these markets feature highly overall, and in terms of their economic productivity. This includes the major Nordic cities alongside some of the Big7 German cities, but Paris drops back as a result of over-exposure to jobs in public services and support functions. The stand-out market is Warsaw, which jumps into the top five for the first time courtesy of employment growth combining a healthy mix of IT, professional and technical roles.
London, Paris, Madrid and Moscow | The prospects of employment, a career path and success will often start at the University level, and it there is a strong correlation between the overall city scores achieved with those cities providing a strong university catchment. London is a clear leader in this regard. While many German and UK regional cities feature in the top 20, many seem to underperform in terms of converting their string higher education basis and graduate talent pool into their local talented workforce and economic output. Paris, Madrid and Moscow stand out as cities that do more with their university talent, as do Vienna, Dublin and Copenhagen.
Zurich, Stuttgart and Vienna | Beyond university and working life, overall quality of life factors such as crime and safety, access to health care, climate, traffic commute and pollution has become more relevant and important to many, especially those of the millennial plus generations. Based on these factors we see a different picture entirely, with the top ten dominated by Germanic and Dutch markets. Munich leads this category, closely followed by Zurich and Stuttgart. Vienna is not far behind, with Utrecht evenly matched in fifth.
Helsinki, Copenhagen, Zurich and Stockholm | While employee-friendly factors do not put the UK in a good light, the reverse can be said of the more employer friendly-factors of market risk, operating conditions, labour law flexibility and corporate tax levels. In this regard, the UK cities sit right at the top of the rankings, which is a reminder of how transparent, flexible and open the UK is as a place to do business despite all the much publicised Brexit ruminations. Making up the top five of 'open market' cities to do business are Helsinki, Copenhagen, Zurich and Stockholm. Prague and Tallinn also sit within the top twenty overall, but their low cost base significantly differentiates their offer in a positive light.