April 6, 2016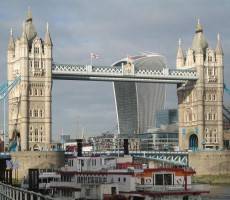 A new poll from Historic England claims that nearly half of Londoners (48 percent) think the now 430 tall buildings planned for the capital will have a negative impact on the skyline, compared to the 34 percent who think they will have a positive impact. The study also claims that more than half do not know how to make their voice heard. The figures were released as Loyd Grossman, Chairman of the Heritage Alliance, Sir Laurie Magnus, Chairman of Historic England and architect Sir Terry Farrell wrote an open letter calling for a clearer strategy on tall buildings for London. When asked which planning applications they would like to be consulted on, 60 percent believed people across the city should have a say if a tall building is proposed in a historically important place. But currently it is usually only those in surrounding areas who are consulted on proposals for buildings that may be so tall they affect views and settings for miles around.
Historic England has said that limits around who is consulted on tall building proposals, defined as 20 storeys or more, need to be reviewed and a pan-London approach to skyline issues is needed. Every planning application is open to comment but over half of respondents (58 percent) said they do not know how to go about it.
A pan-London approach is needed
Historic England is calling for wider public involvement in the way London develops, in the run-up to the next London Plan, so Londoners are better informed about the changes gathering pace in the city. The call comes following the recent announcement that there are now over 430 tall buildings planned for the capital.
In their open letter, the three signatories said that proposed developments are often marketed to the public using idealised imagery. They also said they support the London Assembly's recent call for better masterplanning and a fully-developed, accessible 3D model of the city that enables people to better understand the way London's precious skyline is developing.
Duncan Wilson, Chief Executive of Historic England, said: "Londoners know how special their city is, and they know that the future of our capital hangs in the balance. Tall buildings can make an excellent contribution to city life if they are well-placed and well-designed. But in the wrong places, they can do serious harm. It matters when tall buildings overshadow our crescents and squares, our playgrounds and palaces, canals and cathedrals. Today, Londoners have shown that they want to have more of a say over how London's future skyline is developed. The millions of people who live and work in the city want to be better informed and more involved in the changes that are gathering pace."