June 29, 2017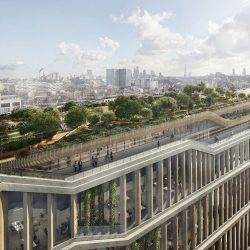 A new study of 290,000 students worldwide claims that the majority studying business, engineering and IT would prefer to work for medium sized businesses and that they have a very clear idea about the sort of employer they would like to work for. The World's Most Attractive Employers (WMAE) study from employer branding consultancy Universum Global is now in its 9th year and draws on data from the world's 12 largest economies to rank the companies students find most desirable for employment. Overall, the majority of students (74 percent) reported that they would prefer to work for a company with fewer than one thousand employees. A larger proportion of talent from Germany, France, and Brazil would prefer to work for larger employers, but overall talent in these markets also said they would prefer to work for smaller firms. For business and engineering / IT students in all countries excluding Russia, India and Germany, work/life balance remains the overall top career goal. Results reveal Russian students in both fields of study still prefer job security, while Indian students in both fields of study are far more interested in having an international career than they are in other career goals.
Most desirable employers for business students:
1. Google (Non-mover since 2016)
2. Goldman Sachs (4th in 2016)
3. Apple (2nd in 2016)
4. EY (Ernst & Young) (3rd in 2016)
5. PwC (PricewaterhouseCoopers) (Non-mover since 2016)
This year Goldman Sachs has managed to overtake EY and Apple by making an impressive big leap from 4th to 2nd place. "Companies like Goldman Sachs are moving up in the attractiveness ranks because of their inspiring purpose, and offering of extensive training and development. These offerings empower employees, both impacting work and society," said Universum's CEO, Petter Nylander.
Most desirable employers for engineering / IT students:
1. Google (Non-mover since 2016)
2. Microsoft (Non-mover since 2016)
3. Apple (Non-mover since 2016)
4. General Electric (6th in 2016)
5. BMW Group (4th in 2016)
Google has retained its 1st place positions in both fields of study, and continues to fight off Microsoft and Apple in the engineering/IT rankings, which remain in 2nd and 3rd place respectively. This year the list of industries has expanded with the inclusion of e-commerce, insurance, and logistics. This combined with the recent increase of interest in software and computer development has caused banks, automotive and FMCGs, typically higher contenders for top talent globally, to decrease in ranking this year, however several individual companies from these industries, such as the Volkswagen Group, have continued to standout and climb in the rankings. Industries like FMCGs still dominate the WMAE, but fewer students are reporting wanting to work for companies in this space. The survey revealed students thought many of the brands simply did not speak to them individually. The top three preferred industries include management and strategy consulting, banking and financial services.
The shift in perceptions may have something to do with student goals post-graduation. Globally, both Business and Engineering/IT students had very similar goals for their careers, including working for an international company/organisation with 36 percent of business students and 29 percent of Engineering/IT students listing it as a top goal. Remaining career goals have the two disciplines nearly neck in neck.
Student goals:
1. Work for a privately-owned national company/organisation: Business: 19 percent, Engineering/IT: 22 percent
2. Continue studying: Business: 16 percent, Engineering/IT: 18 percent
3. Start my own business: Business: 8 percent, Engineering/IT: 6 percent
4. Work for a start-up: Business: 5 percent, Engineering/IT: 7 percent
However, of those who want to work for an international or national company or organization, the top 5 preferences for an employer differ considerably between business and engineering/IT. Business students are overwhelmingly motivated by high future earnings, while it's the third most important priority for Engineering/IT. However, in the top two for both groups of students is a creative and dynamic work environment.
Student preferences
Business:
1. High future earnings
2. A creative and dynamic work environment
3. Leaders who will support my development
4. Professional training and development
5. Good reference for future career
Engineering:
1. A creative and dynamic work environment
2. Innovation
3. High future earnings
4. Professional training and development
5. Secure employment