August 24, 2018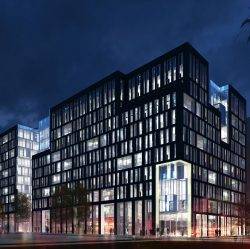 The repercussions of a no-deal Brexit are being hotly debated but there are some indications that it's yet to impact the Capital's commercial property sector. A number of leading tech and creative companies have continued to acquire large volumes of office space across London. According to figures from CBRE, take-up of Central London office space stood at 1.2m sq ft in July 2018, above the 10-year monthly average of 1.0m sq ft. The increase in July was largely down to two Facebook deals at 11/21 Canal Reach, N1 and Building P2 Handyside Street, N1, where in total 600,600 sq ft of office space has been filled. The creative industries sector led July take-up at 679,400 sq ft, representing 61 percent of the space taken; with the business services sector acquiring 17 percent of space, with 133,200 sq ft going to flexible office providers. In the past 12-months, business services has been the principal sector, accounting for 31 percent of take-up ahead of the creative industries (25 percent) and banking and finance sector (16 percent).
Simon Calvert, Senior Director, CBRE said: "It is a sign of international confidence in London that major tech and creative companies are continuing to acquire large volumes of space across the Capital. The outlook for the next quarter remains positive, with July under offers 43 percent above the 10-year monthly average, having been above average for each of the last eight months."
Under offers in July reached 4.1m sq ft, significantly above the 10-year monthly average of 2.9m sq ft. The largest unit under offer was at 135 Bishopsgate at Broadgate, where 264,000 sq ft is under offer in two separate transactions. The largest single under offer is to a confidential occupier at Premier Place, 2a Devonshire Square totalling 150,200 sq ft. A total of 6 units across Central London had over 100,000 sq ft under offer at the end of July.
Central London availability in July remained largely unchanged at 13.7m sq ft. Over the last six months, supply has fallen by 5 percent, having peaked at 14.4m sq ft in January 2018. Availability is below the 10-year average of 14.9m sq ft – and has been since February 2014.