October 13, 2017
The ambivalent attitude many people hold towards technology is laid bare in two major new studies from the Pew Research Centre. When asked to name what has brought about the biggest improvements in their lives over the last 50 years, technology is the most commonly cited factor by people across the US. They are even optimistic that technology will have a similarly beneficial impact over the next half century. Yet when asked about their specific attitudes towards artificial intelligence and automation in a second survey, many are apprehensive about the impact the technologies will have on their jobs and income.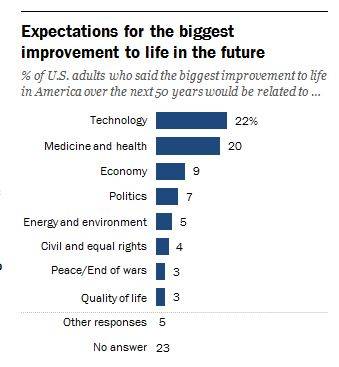 In the first survey, respondents were asked the open-ended question: "What would you say was the biggest improvement to life in America over the past 50 years or so?" Technology was cited most (42 percent), significantly more than those who mentioned medicine and health (14 percent), civil and equal rights (10 percent) or other advancements. Perhaps unsurprisingly, black people were about as likely to name technology (26 percent) as they were civil and equal rights (21 percent).
A similarly open-ended question asked people to predict the biggest improvements to life over the next 50 years. The top responses were expected improvements from technology (22 percent) or from medicine and health (20 percent).
The second report offers a more pessimistic viewpoint. The overwhelming majority of Americans (85 percent) say they would support restricting workforce automation to jobs that are dangerous or unhealthy for humans to do, including 47 percent who support the idea strongly, according to the survey, conducted May 1-15 among 4,135 U.S. adults. A smaller majority (62 percent) would favour giving consumers the option to pay extra to interact with a human, rather than a robot or computer, when purchasing products or services.
Around three-fifths say they would favour a federal policy that would provide a guaranteed income for all citizens to meet basic needs if robots and computers become capable of doing many jobs now done by humans. And 58 percent say they would support a federal service program that would pay people to do tasks even if machines are able do the work faster and more cheaply.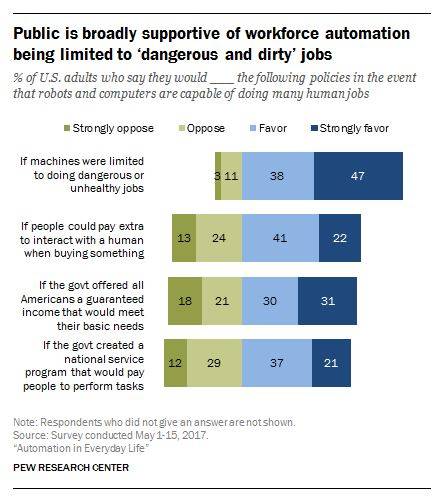 A majority of people (58 percent) said there should be limits on the number of jobs that businesses can replace with machines, even if those machines are better and cheaper. Fewer respondents (41 percent) took the opposite view that businesses are justified in replacing human workers, even if machines can do the work better and at a lower cost.
The public is more divided on the question of who bears responsibility for taking care of displaced workers in the event of widespread automation. Half say it is the government's obligation, even if it means raising taxes substantially. Nearly the same share (49 percent) says it's the obligation of individuals, even if machines have already taken many human jobs.