February 10, 2020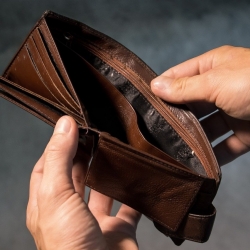 More than half of the people in the UK classified as living in poverty are members of a working family. According to the Joseph Rowntree Foundation's state of the nation report on poverty in the UK, poverty has risen for children and pensioners over the last five years. Although employment has increased, in-work poverty has also gone up because often people's pay, hours, or both are not enough.
Around 56 percent of people in poverty are in a working family, compared to 39 percent 20 years ago. Of the 14 million people currently living in poverty, once extra-cost disability benefits are discounted four million are disabled and a further 3 million live in a household with someone who has a disability. Children have had the highest poverty rate throughout the last 20 years, with 4 million in poverty in 2017/18.
There are regional differences in poverty rates, with higher rates in London, the North of England, Midlands and Wales, and lowest in the South (excluding London), Scotland and Northern Ireland. Two major drivers of differences in poverty rates are the availability of good-quality jobs and housing costs. Levelling up will require action on low earnings in places like the North East which saw the largest increase (2.2 percentage points), and on high housing costs in London and elsewhere.
Better and more secure work 
People in every part of the country should be able to progress out of poverty, with access to a good job and a secure, affordable home, the report argues. The latest figures show people are much more likely to be in poverty if they live in certain parts of the UK, in a family where there's a disabled person or a carer, if they work in the hospitality or retail sector, or if they live in rented housing.
JRF is calling on the government to improve job security and quality, see the benefits system as an essential public service that loosens the grip of poverty, and help make more low-cost housing available.
Claire Ainsley, Executive Director of the independent Joseph Rowntree Foundation said: "Millions of families care for each other, raise their children and work hard without any guarantee that they will escape poverty – governments, employers and landlords all have a role to play in changing this. It's not right that so many are unable to build a firm foundation to their lives because their jobs are insecure or they can't find a home they can afford".
"Without a better deal for working families, and a social security system that provides a public service for all of us, the UK faces further division and deeper poverty. That better deal needs to encompass the basics we all need – from building new homes to funding social security and bringing better jobs to all parts of the country".
An endless circle
Of all family types, working single parents have been swept fastest into poverty
Of all family types, working single parents have been swept fastest into poverty, with three in ten now struggling to stay afloat compared with just two in ten a decade ago. More than half of people in lone parent families in London are in poverty, the highest rate in the UK.
More people are in work but when JRF spoke to lone parents, they talked about "dehumanising" work, feeling trapped "in a never-ending circle" by the benefits system, and being "stuck" in unaffordable or insecure housing.
For families on low pay, insecurity is worsened by the cost and availability of transport and childcare, especially in employment sectors such as care, retail and hospitality where a largely female workforce is often required to work evenings and weekends.
Responding to the report, Working Families Chief Executive Jane van Zyl said: "For too many families in the UK, work is far from a guaranteed route out of poverty. We need urgent labour market reform to ensure that families can thrive. This report confirms our own findings that parents are trapped working below their skill level and earning power because they cannot find the flexibility that their family needs.
To remedy this, we need to unlock the supply of quality flexible jobs in the UK. The government has committed to considering legislation to make flexible recruitment the default, but switched-on employers shouldn't wait for the government to bring in this much-needed change. Employers should be thinking now about the flexibility that they can offer, enabling parents to give their best at work and at home."
JRF is urging a focus on the following areas to solve the problem:
Good jobs. While the proportion of people in employment has risen consistently for six years, weak local economies in some parts of the country have led to higher unemployment in those areas than in the UK as a whole. This needs to change or progress will stall. In addition, employment among disabled people and carers is still low, and they should be supported to work when they can.
We need to improve earnings for low-income working families, helping people in the lowest-paid jobs or working part-time. Too many people are stuck in low-paid, insecure jobs, with little chance of progression and too few hours of work to reach a decent living standard. Workers need more security, better training and opportunities to progress, particularly in part-time jobs.
We need to strengthen the benefits system so that it provides the anchor that people need in tough times. Social security should support people who need it and we all need to start viewing it as an essential public service.
We need to increase low-cost housing for families on low incomes, and increase support for people with high housing costs. We also need to address the sense of insecurity felt by many people living in the private rented sector.
Image by Andrew Khoroshavin