May 8, 2018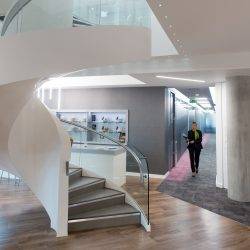 Manchester based businesses dominated the annual British Council for Offices (BCO) regional property sector awards dinner held in Manchester at the end of last week.  Shoosmiths LLP, Hilson Moran, Neo and The Bright Building all being recognised as some of the best workplaces in the North of England.  Other workplaces across the North of England that also received recognition were Number One Kirkstall Forge, Leeds (Winner, Best Commercial Workplace, Waterfront Point, Widnes (Winner, Best Corporate Workspace and Albert Works, Sheffield (Winner, Best Projects up to 1,500 m2)
Shoosmiths LLP was named as winner of the Best Fit Out of a Workplace, and was designed by Cartwright Pickard Architects with fit-out by Claremont. Hilson Moran, winner of the BCO Innovation Award, was designed by Space Invader. Neo took home the BCO Refurbished / Recycled Workplace Award.
Manchester's The Bright Building also received a Highly Commended in the Best Commercial Workplace Award. Home to Manchester Science Partnership, the office space was designed by BDP.
Shoosmiths LLP's Manchester office within The XYZ building in Spinningfields, which won in the Best Fit Out of Workplace category, was praised by the judges for the variety, quality and flexibility of its workspace. The building, which incorporates ten different work settings within its fit out, was described by the judges as providing a seamless working environment that allows people to choose a workspace best suited to the task they are carrying out, enhancing collaboration and creativity.
The BCO judges applauded Hilson Moran, winner of the BCO Innovation Award, for its sustainable approach, earning the development the UK's third WELL Certification. With 40 years of experience designing environmental services, Hilson Moran set out to deliver an exemplar project for their own office, located in the Neo building in Charlotte Street. The judges added that the challenge of achieving WELL Certification in a fit out should not be underestimated. Many initiatives were implemented with a view to improve employee health and wellbeing, such as local adjustment of office temperatures and personal lockers, design features such as green moss walls in the collaboration area, and plants which were carefully selected to help remove pollutants from the air.
As well as housing the BCO Innovation award winner, the Neo building itself received recognition for its full interior and exterior refurbishment, being awarded with the BCO Refurbished / Recycled Workplace Award. The judges were impressed by Bruntwood's innovative approach, which has led to the creation of a tenant liaison role to ensure building occupiers connect, collaborate and make full use of the communal roof spaces on offer. In the judges' view, Neo has been completely modernised and offers high quality, flexible space for a variety of tenants.
Manchester's The Bright Building was highly commended by the BCO judging panel in the Best Commercial Workplace category. The first building to be completed within BDP's masterplan for Manchester Science Park, it was praised for providing a flexible workspace in an energy efficient building.
Phil Doyle, Director at 5 Plus Architects and BCO Northern Committee Chair said: "A number of workplaces shortlisted this year have proven themselves to be of real value to local firms. These offices have helped bring together disparate workforces in new, often relocated headquarters, strengthening the corporate identity of their occupiers. It has also been a pleasure to see the ambition of projects across the region, innovating to transform out of date buildings into offices fit for modern working."
Ian Aldous, Director at Arcadis and Chair of BCO Northern Judging Panel, said: "Across the board, our shortlisted workplaces demonstrate a forward-thinking approach to office design that has placed occupier benefit at the heart of the process. These projects have delivered multifunctional spaces and flexible floorplates to ensure occupiers can continue to grow and evolve their working styles with minimal physical disruption. We were also pleased to see an emphasis on wellbeing, which manifested itself in many of our projects through elements from biophilic design to increased cycle storage and shower facilities."