May 8, 2018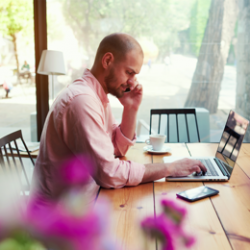 Organisations are failing to get the basics right when it comes to providing the digital and virtual systems that support employees in their roles, despite an evolving technological landscape and rise in flexible working, a new report has claimed. Data released by Leesman analyses how organisations can better support employees by offering the technology tools and infrastructure that enable people to work in a flexible way. In Deloitte's 2018 Tech Trends report issued at the beginning of 2018, there was a heightened focus on how disruptive technologies will help businesses achieve larger strategic and operational goals and drive greater value. It predicted that within the next two years, more companies will embrace the emerging 'no-collar workforce' trend by redesigning jobs and reimagining how work gets done in a hybrid human-and-machine environment. However, Leesman's findings show that, as of yet, organisations are failing to get the digital basics right. According to its latest dataset (Q1 2018) 23 percent do not agree that they have the technology tools and infrastructure that enable them to work in different locations across the office or from different locations outside of the office.
Although remote working is reportedly on the rise, employees are not empowered to work in this way. According to a survey of business leaders at the 2015 Global Leadership Summit, 34 per cent said more than half their company's full-time workforce would be working remotely by 2020 – which is worrying considering 29 per cent of employees do not agree that the culture of their organisation is supportive to working in a mobile or flexible way. What's more, 33 percent do not have access to training when it comes to optimising this work model.
Tim Oldman, Leesman CEO, commented: "We've never had more tech, so why aren't employees becoming more productive? Our research consistently shows it's because businesses are not getting the basics right. Across our global sample of more than 300,000+ employees, those "basics" will differ depending on what employees are doing. For those who rely on technology to do their jobs, many are not satisfied with their workplace's current offering.
"Thanks to the proliferation of affordable yet sophisticated tech, many employees have better devices and systems at home than they do at the office. In the workplace, people are often faced with inadequate equipment or slow, unreliable wifi – both of which can act as a barrier to work rather than an enabler.
"It sounds obvious, but the most productive employees are those who have the tools that support their role in the organisation. So before we throw our arms in the air to applaud and welcome the digital revolution heading our way, perhaps employers should ensure the physical, virtual and social infrastructures they're currently providing help their employees deliver their best work.
"Let's redesign and reimagine how work gets done in human environments… before the machines arrive."
For more information, click here.