November 24, 2015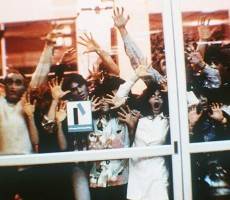 Whatever you make of Black Friday, and we see it quite clearly as an alien intrusion that taps into the worst instincts of some people, there is no doubt that it has quickly captured the imaginations of pretty large parts of the UK population. Although only on these shores for a couple of years, its influence is such that the media has already begun what promises to be an annual hand-wringing over this coming Friday's outpouring of consumerism. Meanwhile logistics companies are dusting off their mothballed depots to cope with demand and gum up the roads while retailers continue to ponder whether they want to associate themselves with the whole wretched exercise in the first place. It's also a growing problem for employers as two new surveys show that a significant number of their employees are planning to spend at least some part of their day shopping online, throwing sickies or taking the day off work.
According to a study by Office Genie, more than half (57 percent) of workers would visit online sale sites at work to get the best deals – while a further 7 percent would happily skip work altogether.  According to the study of over 1,200 people carried out earlier this month, 34 percent of respondents intend to take part in the latest US retail fest and a remarkable 68 percent of them said they would do so online at work, well above the average rate.
Young people are the most likely culprits, at 69 percent – while overall respondents in Wales (70 percent) and Northern Ireland (69 percent) were the most likely to be derailed by deals. But Scottish bosses have the least to worry about, as only 47 percent of respondents in Scotland said they would sale shop online while working.
Ciaron Dunne, Managing Director at OfficeGenie.co.uk, said: "With more people online throughout their working day, employees are taking the opportunity to explore the abundance of web offers available at this time of year – effects on productivity could be alarming, especially on Black Friday. I would advise employers to put clear policies in place and communicate these to staff. It would also be worth seriously considering flexible working options or even an extended lunch break so staff can browse Black Friday bargains guilt-free."
Similar results are also reported in a survey by the Perfume Shop. According to their study, around a fifth of people (23 percent) are considering taking a sick day to take advantage of the discounts available.