November 26, 2015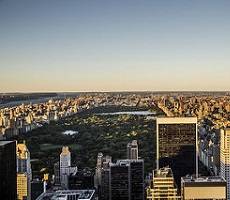 Ahead of COP21 next week, a new report 'Climate Action in Megacities 3.0', published by the C40 Cities Climate Leadership Group (C40) and research partner Arup states that since COP15 cities have taken the lead in climate action by forging a collaborative pathway to low carbon and climate resilient development. Mayors have scaled-up action- with 51 percent of schemes now delivered city-wide, as opposed to 14 percent in 2011. Since the last major COP in Copenhagen, C40 cities have taken 10,000 climate actions – a doubling of actions in just six years – and have committed to reduce their CO2 emissions by 3 Gt CO2 by 2030, equivalent to the annual carbon output of India. Furthermore, decisions taken by global cities to invest in low carbon development over the next 15 years have the potential to avoid locking in a total of 45 Gt of CO2, or eight times the total current annual emissions of the United States.
As the world's most extensive quantitative study of city climate action, CAM 3.0 documents and analyses these actions, and demonstrates the ability of mayors to share knowledge across geographic, political and economic boundaries.
Building on two previous instalments of this research, CAM 3.0 demonstrates the crucial role that cities continue to play in addressing climate change, and validates their position as a critical partner to state actors., Indeed, the report provides clear evidence that city leaders across the world are already setting ambitious targets, making commitments and taking action to fight climate change ahead of 2020, when the Paris agreement comes into force.
"We're in better shape going into Paris than we were going into Copenhagen largely because of the progress cities have made, and C40 cities have helped lead the way. It's a great example of the power of cooperation – a lesson told in this report that I hope will inspire world leaders at the U.N.'s climate change conference." said Michael R. Bloomberg, UN Special Envoy for Cities and Climate Change, who launched the first edition of the Climate Action in Megacities during his tenure as C40 Chair as part of a strategic goal to empower cities with data.
CAM 3.0 reports that almost a third of climate actions delivered this year involved collaboration with other cities. For example, the city of Milan participated in C40's Waste and Resources Network, and was able to learn from a number of other cities including Tokyo, San Francisco and Seoul. Milan has implemented successful food waste collection projects, and has been able to accelerate its ambitious disposal reduction goals to now exceed European Union regulations.
This is just one example of how C40's 82 cities all over the world are collaborating, setting targets and achieving results. CAM 3.0 therefore indicates that nations can learn to work together to address climate change, and shows that setting and achieving ambitious targets is not only necessary, but entirely possible.
According to the report by working together, the world's largest cities have forged a pathway to low carbon and climate resilient development. By showing what cities have already done, are currently doing, and have the potential to do, cities and mayors provide a positive message going into COP21 that nations, too, can agree upon and deliver ambitious climate action.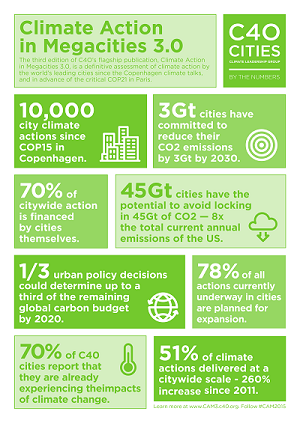 Download the full report here.