November 27, 2015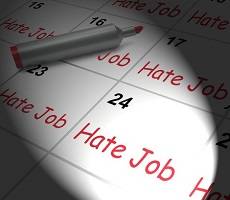 Only 35 percent of UK workers are happy with their job, and over a third (39 percent) admit that they feel miserable at work. In a new survey by Workwear Express  of over 1,000 people, just 14 percent said they planned to stay in their current job for the next year. This appears to be reflected in the amount of sickness they take, with 25 percent admitting that they've taken sick leave from work due to being so unhappy. Poor management was seen as the biggest contributor to an employee's low sense of satisfaction at work, as just over 31 percent of those polled agreed that being badly managed was their biggest issue in the workplace. However, having a heavy workload was a close second, with 29 percent of people citing this as the reason for their unhappiness. A third (35 percent) of those polled said that Monday was the most miserable day of the week to work.
While poor management appears to be the underlying cause of so many of the nation's work troubles, 28 percent of those in a management role said that they were unhappy with their job. Additionally as many as 28 percent of managers said that they felt stressed all the time at work.
Unhappiness appears to be most prevalent in the nation's call centres, where 29 percent of advisors were found to be the most miserable in their line of work. On the other end of the scale, therapists were found to be the happiest workers, with more than half of those polled saying they enjoyed their jobs.
It comes as no surprise that most workers loathe working during the festive season, with as many as 38 percent saying they'd much rather be at home celebrating Christmas with their family than working.
Yet, over half of those participating in the survey said that they worked during Christmas, almost 58 percent of whom were men and 42 percent women.
Those aged between 18 and 24 appear to be the most willing to work during the season's festivities, with as many as 18 percent saying that they love to work during the festive season. Similarly, a surprising 16 percent of those working in Yorkshire and the Humber also said that they love working at Christmas time.
Many suggested that more of a Christmassy atmosphere at work might help, with 30 percent saying that they felt that their workplace wasn't particularly festive during the holidays.