February 12, 2021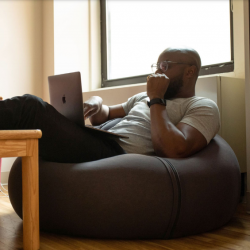 The impact of the nation's deteriorating mental health from Covid-19 lockdowns and other restrictions cost UK businesses £14bn last year, according to a study by Westfield Health. The cost of absenteeism from work due to mental health reasons increased last year by £1.3bn from 2019's totals as work from home, travel restrictions, furlough and pay cuts changed the workplace for millions of people across the UK.
However, this has seen a step change among UK businesses, which are focusing on the wellbeing of their teams in greater depth and commitment than ever before. Some 81 percent of businesses surveyed by Westfield Health claim they have a renewed focus on the mental and physical health of employees because of the pandemic.
In its report – Coping with Covid – the corporate health and wellbeing provider asked more than 1,600 staff and employers about workplace health, claiming that absences due to mental health increased by 10 percent during 2020 as people struggled to adapt to their new working climates.
On average, employees took 3.19 days off for mental health-related issues in 2020, up from 2.90 days in 2019. In addition to absenteeism, the research claims that presenteeism (the problem of employees being on the job but not fully functioning because of health reasons, in this case mental health) is a growing issue, with one in three (36 percent) workers saying their workplace productivity has been negatively affected by mental health every week, increasing the cost to business. In fact, 76 percent said they feel their productivity has stagnated or fallen since last year.
Dave Capper, CEO, Westfield Health, said: "As we know, Covid-19 is having a huge impact on employees' mental health, the scars from which may not be visible, let alone heal, for many years and have arguably changed our connection to work and colleagues permanently.
"In 2021, companies will need to support wellbeing from the top down."
"The findings from our research paint a worrying picture for workplace productivity, with the economic impact of mental health clearly deepening. However, the way businesses have and are responding to this challenge gives us hope, as when we come out the other side of this pandemic, there will be a long-term commitment to support employees' mental and physical wellbeing.
"This has seen an increased openness to address a once-taboo topic and demands a greater focus by employers on wellbeing, as the link between it and business recovery becomes clearer."
The research highlights that more than one in five (22 percent) employees are concerned about losing their job, and 26 percent are becoming increasingly anxious about work. In a message to employers, 12 percent of employees believe that they are not being supported by their company as they struggle to come to terms with having to adopt new ways of working and adhere to social distancing regulations in the workplace.
Possibly as a result of these factors, 21 percent said they felt lonely more often, 35 percent said their mental health has declined since the start of the pandemic, 34 percent said their morale was poor and 27 percent of all employees are less engaged than the previous year.
Dave Capper added: "The £14bn cost uncovered in this research shows that decreasing mental health is both a public health and an economic issue. It is a challenge affecting the UK's economic recovery – and we must help our employees for the sake of all concerned. At a time when many companies are under extreme financial pressures, the investment – both in cost and time – to ensure that employees are coping may seem expensive, but the cost of ignoring the problem is even greater."
Workplace wellbeing revolution
However, the research claims that progress is being made with the majority (81 percent) of businesses saying the pandemic has made them more focused on wellbeing. This has resulted in the average amount spent on wellbeing increasing by 34 percent in 2020 (£223.50 in 2019 to £300 in 2020) with Westfield Health projecting an increase to £336 in five years' time.
These forecasts come as more than a third (36 percent) of companies plan to increase spend on wellbeing programmes in the coming year, and more than half (56 percent) grow their spend in the next five years.
According to HR leaders interviewed, this ongoing investment is due to wellbeing becoming more important at their company (52 percent), a greater need for wellbeing post-pandemic (50 percent) and strong evidence for it improving the performance of workers (46 percent). Businesses that have already invested in wellbeing programmes are seeing the benefit, with 78 percent saying engagement is high, compared to 54 percent of those without a programme.
What employees are asking for
As employees continue to struggle with adapting to ongoing restrictions, the Westfield Health research highlights some of the important areas where staff are seeking more assistance from their employers.
Chief among the demands being made are increased calls for long-term changes to the way staff work, such as flexible working hours and working from home (28 percent); more mental health support at work (26 percent); extra wellbeing support to help promote a positive working environment (24 percent) and improvements to the working environment so that it is more Covid-secure (28 percent).
Dave Capper added: "With productivity, morale, motivation and engagement suffering last year, employers are keen to find a way to improve their situation and ensure their financial recovery isn't stalled by poor wellbeing.
"Despite the welcome news of the vaccine roll-out, it is likely that the HR and wellbeing teams will be focusing on the role their business can play in the mental wellbeing of their teams. However, this research shows that the implications for a business are too big for a company's HR team to navigate alone.
"In 2021, companies will need to support wellbeing from the top down. They know that the talent in their teams is essential to recovery, and by taking steps to protect that talent mentally and physically, they will be ensuring a healthy future for all concerned."
Image:Westfield Health