July 4, 2023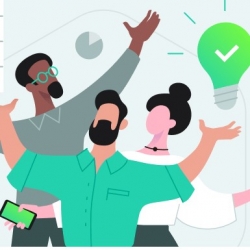 Members of the European Parliament have backed a new charter from a consortium of organisations that sets out to 'revolutionise workforce policy'. The Future Workforce Alliance (FWA), a consortium of policymakers, researchers and firms such as Zoom and Remote, has launched the European Charter for Digital Workplace Wellbeing and claims that the step by MEPs signals the beginning of the life/work revolution and solidification of workers' rights in the face of  what it refers to as 'return to office lobbying'.
The move comes amidst what the consortium says is 'a workforce mental health crisis' that it claims spiked during the pandemic and is 'yet to subside'. An EU survey from Spring 2022 of more 27,000 employed workers, revealed that 44 percent experienced an increase in work-related stress. And, in a February 2023 survey of 10,243 global workers by US think-tank Future Forum, 42 percent reported burnout.
The European Charter for Digital Workplace Wellbeing has been signed by a group of 31 MEPs, including MEP Drago? Pîslaru, Chair of the European Parliament Committee on Employment and Social Affairs.
Under the Charter, MEPs are calling to modernise Europe's policy approach to workplace wellbeing by focusing on solutions across four themes: (1) life beyond work, (2) social connection, (3) privacy and trust, and (4) digital wellness. The proposed solutions include increasing access to coworking spaces, curbing employee surveillance software, and establishing the first-ever legal definition for what constitutes a healthy relationship with technology in the workplace.
MEP Drago? Pîslaru said: "Digital wellbeing has to be the driver for businesses in the transition for a sustainable and prosperous future. The remote work, hybrid models and flexible work-life relationships are an added value for our economy, business and workers. These should not come at the cost of our people with blurred lines between personal and professional life, increasing burnout rates and loneliness. It is our moment to look into innovative solutions that protect the mental health and wellbeing of current and future generations of workers."