October 5, 2018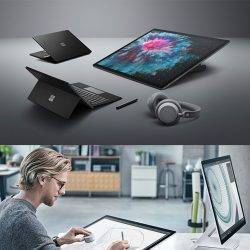 Microsoft expanded its Surface family of devices with Surface Headphones, Surface Laptop 2, Surface Studio 2 and Surface Pro 6, designed to offer more performance and productivity enabling people to achieve more. The devices seamlessly fade into the background, empowering people to work without interruptions to their creative flow, whenever and wherever inspirations strikes.
Microsoft also announced the availability of the Windows 10 October 2018 Update, which coupled with Microsoft's hardware innovations create the right tools to boost creativity and productivity. The update includes new features such as Your Phone App, bringing instant access to your photos and texts from your Android phone right on your PC as well as Microsoft Edge Learning Tools.
Office also introduced new capabilities that make it easier to stay organized while adding value and creativity to your work with new AI-enhanced features, including Intelligent Inking features in Word and PowerPoint and To-Do integration with Outlook.com, which allows you to easily drag and drop emails into your To-Do task list and schedule tasks by dragging task to your Outlook.com calendar.