June 11, 2019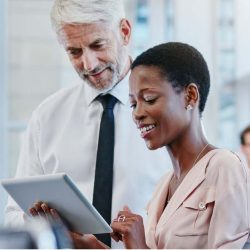 The world of work is evolving. Geopolitical change, digitalisation of the workplace and increased regulation are just some of the changes that businesses and their employees have to navigate. This disruption can feed into employee stress levels, impacting their happiness at work. Maintaining good mental health in the workplace is vital for employee wellbeing – it's a key factor in employee retention and in turn, business success. However, it has been reported that between 2017 and 2018, 15.4 million working days were lost to work-related stress.
The benefits of having a rested, engaged and productive team speak for themselves. The University of Warwick found that there was a 12 percent productivity spike in employees who were happier at work—something which employers are beginning to recognise and encourage. We need to start looking beyond stress and invest more time, energy and attention in employee wellbeing: what fosters it, what sustains it, and why it's so crucial to business success.
We need to start looking beyond stress and invest more time in employee wellbeing
Our own research suggests that 44 percent of UK businesses have implemented wellbeing schemes at work and over a third (34 percent) said that they endeavoured to discuss happiness and wellbeing with employees more frequently. There are plenty of options for employers considering introducing new wellbeing schemes, which range from flexible working to supplying healthy food options.
To help promote employee wellbeing, many businesses are beginning to implement flexible working hours or remote working. This can be an effective way to promote a healthy work–life balance and the option to work from home one or two days a week can really benefit those with a long commute.
Linked to wellbeing is employee health; on-site flu jab clinics hosted by employers offer a convenient way to make sure everyone has the opportunity to be vaccinated. It's likely that this initiative will cut back on sick days too. Companies can also create a culture of wellbeing with health screenings that might identify risks involving smoking, weight, blood sugar, cholesterol, blood pressure and diet.
What an employer offers in vending machines or the communal kitchen says a lot about workplace wellness. Employers should avoid regulating what your workers eat and drink, but they can encourage good nutrition by offering healthy food choices, such as fresh fruit, at company meetings and in the kitchen. In addition to healthy eating, employers should encourage their staff to remain fit and active. For example, they could encourage their staff to start a lunchtime walking or running group. Meanwhile, offering free or discounted gym memberships, massages or exercise classes for employees can also work wonders for workplace wellbeing.
Inspiring workplace happiness
According to It's time we all work happy: The secrets of the happiest companies and employees, workplace happiness for UK professionals is driven by three factors: pride in the organisation, being treated with fairness and respect, and feeling appreciated. Workplace wellbeing is directly connected to all three of these factors: creating a healthy workplace and opening a dialogue about stress and wellbeing, allowing employees to disconnect from work, and offering flexibility to balance a hectic schedule.
When you invest in the wellbeing of your employees, you'll see the benefits in your bottom line and your company culture. As the world of work evolves, keeping employees passionate and supported through this change will be a benefit for all. Just as job seekers are lured by competitive remuneration, benefits packages and work–life balance, they are attracted by workplace wellness, too. If an employer makes wellness part of their corporate culture, they may find a bonus for themselves, too, when it's time to hire.
____________________________
Matt Weston is UK Managing Director at Robert Half