March 29, 2019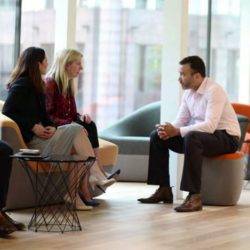 Challenges facing UK businesses in the next five years have heightened the need for employee resilience, according to new research from recruitment specialist Robert Half UK. As businesses adapt to an ongoing period of change, more than nine in 10 (94 percent) CFOs think developing resilience amongst their employees will be important over the next two to five years, with 43 percent citing this as very important. This is critical to almost all (97 percent) CFOs from London-based businesses – the UK's financial hub.
Ongoing economic and industry trends affecting the trajectory of many businesses have created a need for employees to be able to thrive successfully in times of continual change.
"The ability to successfully adapt and to keep up with this constant change has never been more important, especially as it shows no sign of slowing down.
Nearly half (47 percent) of CFOs say Brexit-related transitional work is currently affecting their department. A similar proportion (51 percent) say digital transformation is impacting their department, as a result of automation and an increasing dependence on technology. Additionally, regulatory changes passed in the previous 12 months, including GDPR and MiFID II, continue to create considerable pressures within organisations (49 percent). Just 7 percent of CFOs say they are currently not experiencing any change within their department.
Against this backdrop, business leaders are investing in measures to instil a sense of resilience amongst their staff, to prepare them for the transitional times that lie ahead and ensure they can adapt to any possible disruption. A key element of this is specialist physical and mental health support, being offered by nearly half (43 percent) of businesses. A similar proportion are focusing on communication, transparency and honesty; providing clarity in goals and expectations (41 percent), offering an honest perspective (39 percent) and allowing for an open dialogue within the team (39 percent).
Table 1: Ways CFOs plan to instil a sense of resilience among their employees
| | |
| --- | --- |
| Provide specialist support to maintain physical and mental health | 43% |
| Provide clarity in goals and expectations | 41% |
| Support a positive outlook with my team | 40% |
| Provide an honest perspective | 39% |
| Offer an employee wellbeing scheme | 39% |
| Allow for open dialogue with my team | 39% |
| Encourage teamwork | 37% |
Source: Robert Half, 2019. Multiple responses permitted.
With one in four (25 percent) CFOs who say employees with a sense of resilience will be more challenging to find over the next three years – and a similar proportion who say it will be more in demand (28 percent) – more business leaders are recognising the importance of successfully upskilling their current employees.
Matt Weston, Managing Director, Robert Half UK commented:"Ongoing economic uncertainty and significant trends such as digitisation means the business landscape is evolving at a rapid pace, bringing with it a raft of challenges for employers and employees alike.
"Businesses can reassure employees by investing in their people – in well-being strategies and cultural measures to improve their employees' ability to 'bounce back' from adversity and continue to prosper."
______________________________________________