June 28, 2019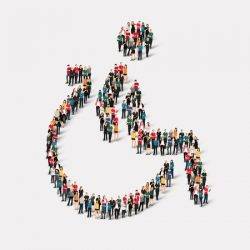 The day to day challenges and injustices faced by disabled people in the workplace, at home and in the wider community will be tackled head-on through a new package of measures announced by the UK Government.  Higher accessibility standards for homes and buildings, an overhaul of statutory sick pay, and greater workplace support including the right to request modifications are part of  renewed efforts to ensure disabled people can fully participate in society.
New national outcomes data for disabled people will also be published, shining a light on injustices and driving action to tackle barriers they face. With around a fifth of the working age population living with a disability, the Prime Minister has also announced a new cross-government disability team. Incorporating the Office for Disability Issues, the new team will sit alongside the Government Equalities Office and Race Disparity Unit in a new Equalities Hub at the heart of government.
This team will work closely with disabled people, disabled people's organisations and charities to develop a new approach to disability, with their views and experiences at the forefront of any new policy.
A consultation on new measures to help employers better support disabled people and those with long-term health conditions in work will also be published next month. These include reforming Statutory Sick Pay so it is better enforced, more flexible to encourage a phased return to work, and covers the lowest paid. The Government will also consult on offering small and medium employers a conditional rebate to support those who manage staff on sickness absence and help them get back to work.
Other proposals include:
New employee rights to request workplace modifications on health grounds
New metrics to compare how well companies deliver for disabled customers in essential markets, such as energy, broadband and water.
New research to ensure disabled people are at the heart of future Government policy, to be published early next year.