December 1, 2017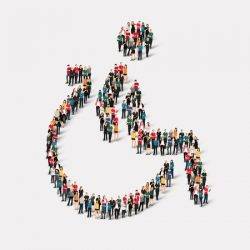 The Government has announced a new 10-year strategy to address employment prospects for disabled people and people with health conditions. In response to its Work, Health & Disability Green Paper consultation which closed earlier this year, the White Paper, Improving Lives: the Future of Work, Health and Disability sets out how the Government will work with employers, charities, healthcare providers and local authorities to break down employment barriers for disabled people and people with health conditions over the next decade. This will be delivered through in-work programmes, personalised financial and employment support, and specialist healthcare services. Currently, ill health that keeps people out of work costs the economy an estimated £100 billion a year, including £7 billion in costs to the NHS. Two new employment trials will also be launched in the West Midlands and Sheffield City Region combined authorities to provide employment support. The Government is also investing around £39 million to more than double the number of Employment Advisors in Improving Access to Psychological Therapies services.
Work and Pensions Secretary David Gauke said: "Everyone should be able to go as far as their talents can take them, but for too long disabled people and people with health conditions have been held back from getting on in work.
"Today we've set out an ambitious 10-year strategy to end this injustice once and for all. By bringing employers, the welfare system and health services together we're taking significant steps to ensure everyone can reach their potential."
Meanwhile, all 40 recommendations of the recent Stevenson/Farmer Review of mental health and employers are to be taken forward by the Government. This includes establishing a framework for large employers to voluntarily report on mental health and disability within their organisations. Employers are a central part of plans, and encouragingly over 5,000 companies of all sizes have now signed up to the Disability Confident scheme to promote disability inclusion.
Health Secretary Jeremy Hunt said: "Mental ill health can affect anyone, from any walk of life at any time. For too long society has dictated that people with physical and mental health issues or a disability are a burden. Ensuring that more people with disabilities or long-term health conditions can get into and stay in work would not only enhance their lives, but actually enrich our economy too.
"This strategy will help shape the future for hundreds of thousands of people with disabilities and mental health issues as we continue to tackle the stigma that so many people face when trying to get into and progress in work."
"Creating an environment where employees feel comfortable to be completely themselves and tell us if they have a disability allows us to put in place the right adjustments to properly enable them to do their work, whilst providing a working environment that emphasises support. This not only results in increased employee satisfaction but also performance, realising value for the organisation too."
Commenting on the Government's strategy, Rachel Suff, Senior Employment Relations Adviser at the CIPD, the professional body for HR and people development said: "The Government's strategy Improving lives: the future of work, health and disability has far reaching proposals for supporting one million more people with a disability into work in 10 years as well improving employers' support for people's health.
"We welcome the broad acceptance the recommendations made in the Stevenson/Farmer review and the Matthew Taylor Review of good work designed to improve not only how employers recruit, but progress the careers of, people with a disability or health condition. By encouraging greater transparency and better reporting of action taken as suggested, Government can help inspire wider change in employer practice.
"Proposals such as reforming Statutory Sick Pay to facilitate flexible working and expanding fit note certification to other healthcare professionals will need further development work and legislative change. We welcome the fact that the Government is taking the time to research and demonstrate a sound evidence base on other proposals, such as determining what incentives could motivate employers to invest in people's health.
"However, we need a considerable step change in employment practice relating to the management of people with a disability and/or health condition if the Government's aims are to be realised. Its Green Paper showed that just 8% of employers had recruited a person with a disability or long-term health condition over a year, a stark indication of the extent of the barriers that continue to hinder employer confidence in this area.
"Despite the widely acknowledged business case for taking action, CIPD research also shows there remains a stubborn implementation gap for health and well-being initiatives, and disability confident practice, at work. As a Disability Confident Leader, we fully support the scheme's work to encourage broader awareness of this agenda but more concrete activity and resources are needed now by Government, working with key stakeholders, to promote and join up existing services such as Fit for Work and Access to Work and build a high-profile campaign to inspire change."