March 15, 2022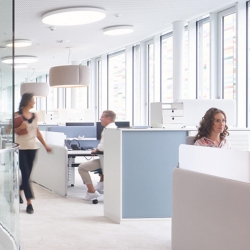 A report published by Advanced Workplace Associates (AWA): Change For Good: 10 Lessons From The Pandemic identifies what it says is the transformative effect of the new ways of working and why there is 'no going back' for employers or employees.
"The world has been through a painful yet dramatic learning process over the last two years, the question is now how leaders of organisations will capitalise on those lessons to make their organisations fit for a modern and challenging world of work," says Andrew Mawson, managing director of AWA. "Those that grasp the nettle will reap the rewards, those that do not will find their organisations increasingly out of step with a rapidly changing reality."
In brief the ten lessons AWA has identified are:
New models of working.
The pandemic has dramatically accelerated the transition to new models of working that are better for people, organisations and society.
Making the impossible possible.
Remote working practices previously considered impossible – such as securities trading, software engineering or processing sensitive information – are now possible or even preferable.
Flexibility, flexibility, flexibility.
Employees are demanding or seeking out employers who will offer the opportunity to work flexibly and leaving behind employers who do not offer flexible options.
Working outside the box.
Contrary to popular belief if people have the right conditions, leadership and expectations they can work more effectively and productively outside the box called an office.
Control over my work environment.
Tasks requiring focus and concentration are best accomplished in a distraction-free environment. That may be a home environment, an office environment or a "third place".
Best and highest office use.
Forward thinking organisations are innovating the function of the office. As we move away from the idea of a full time, 5 day-a-week desk-centric environment, the office is now becoming a central hub, providing a mixing ground for ideas, social relationships and team collaboration to tackle complex problems.
Space management.
With the potential to reduce expensive real estate costs, organisations are looking at how offices are configured and used. We can now structure how we work so that people coming into the office a few days a week don't all show up on the same day!
Managing virtual teams.
Organisations need to deploy intentional strategies to generate both social cohesion and trust – two virtual team management factors critical to hybrid working. Effective hybrid working approaches encourage team members to take responsibility for how they show up on a team, how they develop and maintain relationships and clarity around expectations, outcomes and results.
Hybrid leadership.
Effective management of hybrid organisations requires a transformational, coaching style of leadership at all levels Many senior leaders are entrenched in a command-and-control management model and need support in learning how to manage hybrid. This also leads to a rethink around how and why people are promoted into management and leadership.
Presence bias.
In a pre-pandemic world, proven "presence bias" rewarded people for being "in" the office and side-lined those working away from the office as second-class citizens. In the new world of work, organisations are creating across the board equity through the deployment of new practices, understandings and processes.