October 26, 2020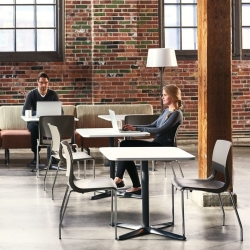 It almost goes without saying that how we work and interact with each other has changed dramatically over the past few months. We have come to rely on technology to replace in-person interactions, be it for a meeting, birthday party, or dinner with friends. Thankfully, most people are able to stay digitally connected through the "three screens of our lives"—a mobile device, a tablet, and a desktop or laptop computer. This would not have been possible in the very recent past and it has profound implications for office design.
Through these screens, people can interact like never before, which is why it's important to keep them in mind when designing the infrastructure for a next generation of built environments, which will need to support more virtual communication.
With the recent pandemic, the "screens of our lives" have had to transition from the office into our homes. Without the available infrastructure like WiFi and cloud services, connectivity beyond the office would have been impossible for some people. To ensure all employees stay connected no matter where they choose to work, the core of any Information Technology Strategy is to enable secure collaboration anywhere, anytime.
By implementing this philosophy into everything we design and produce, everyone can have constant access to technology and connectivity. Today's cloud based digital communication tools are empowering people to work in the workplace environments they find most productive. These technologies can be leveraged in private office settings, or in a connected, mobile media-rich corner of the open-plan office.
With a mobility first approach, today's latest technology and cloud-based services connect everyone, everywhere. With the ability to leverage one or all "screens of our lives," people can work, communicate, and share seamlessly from anywhere. This effortless workflow from person to person and device to device is dependent on reliable access to WiFi, power, and cloud sharing services. With access to these tools, people have the freedom to work wherever they find most productive within their office or home as well as at off-site locations, and this in turn has profound implications for office design.
Embracing the Cloud
Devices like cell phones and tablets can serve as an alternative to a computer and are easier to transport while working away from a physical office. With a higher than normal percentage of people working from home until 2021, having the ability to take work with you has never been more important. Companies must support cloud services that can be used across multiple devices and allow employees to access documents and communicate with their team members from their device of choice. Cloud services also allow for employees to work on a project across multiple devices throughout the day with ease.
Companies must understand that they will have a hybrid workforce
As more people begin to return to the workplace, companies must understand that they will have a hybrid workforce, which will allow a portion of their staff to continue to work from home. This means video conferences will continue and document sharing and collaboration between employees in different cities, states, and countries will remain a necessity. By implementing cloud services for the entire company, the modern meeting takes on a new meaning. People can connect in and view shared documents from anywhere there is a screen, as well as contribute and collaborate with participants.
To best support those who choose to come back to the office, office spaces must provide the same level of flexibility employees felt at home. This means creating different zones within an office including conference rooms, private phone booths, social furniture arrangements, and outdoor options. Each of these zones must also be equipped with the tools to support all types of technology.
A new approach to collaboration
One facet of office design that will see the most change is the shared space. Conference rooms will need to adapt to support digital and in-person meetings. By providing each room with a full audio system and a digital screen (wired or wireless), employees in the office will get the same experience as employees away from the office. One essential feature is access to power with new products emerging that make this a seamless part of the workplace experience.
With the surge of video conferencing with internal and external team members, integrating blinds or curtains into wall systems provide a distraction-free background. In addition, the layout of the conference room will have a major shift. Long tables with a camera or computer at the end make it difficult for video conference users to see what is happening in the room. By reconfiguring the layout of a conference room, people joining in the meeting via video can feel closer and more connected to the people in the room. An important thing to remember when shifting the design of a conference room is safety. The size of the conference room must expand to accommodate social distancing.
We have entered a new phase of work and office design. We must understand and adapt to best support all employees – both in the office or remotely. With the proper technological support, employees can continue to have collaborative conversations with each other and successfully share and come up with exciting ideas. This new era of work will embrace flexibility through available technology and allow for employees to work in the environment best suited for each, be it in a private phone booth, a high-top table in an open floor plan, or on-the-go on their phone.