January 25, 2017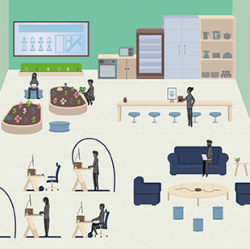 The office of the future is most commonly seen as the habitat of Millennials. But there are all sorts of flaws in this assumption. Apart from the casual stereotyping of a diverse demographic of people, the most glaring is the fact that the workforce is ageing rather than getting younger, and that most offices must now meet the needs of a wider range of age groups than at any time in their history. A new report from Totaljobs seeks to redress the balance in this regard. It suggests that some of the key features of the office of the future will not be slides and ping pong tables but flexible working areas, quiet spaces, spas and private medical rooms. The study claims that the fixation with Millennials means that a large number of older workers now feel that the design of offices does not meet their needs.
The study claims that over a third (35 percent) of workers aged over 45 feel that employers' provisions for people their age are 'non-existent', and almost half believe that workplaces 'naturally cater towards younger employees'. The research involved interviews with over 2,000 working people over 45. The most pressing concerns identified in the study were health issues (30 percent), being out of touch with technology (27 percent) and being unable to learn new things as quickly (24 percent).
The report identifies some of the elements that could be incorporated to address these concerns and reflect the needs of a diverse workforce inclusing:
In-house health centre – Providing 'on-site' healthcare ranging from GP health services to nutritionists and personal trainers
Mind spa –A space that can be sectioned off to manage cognitive thought and mindfulness – increasing productivity and performance
Health alert desk system (H.A.D.S) – An app built into a workspace computer that provides health-orientated alerts on when to take a break
Zeitgeist exchange training – A training area designed to promote skills exchange between workers of different ages
Intelligent kitchen – Kitchen/Canteen providing meals personally tailored to various health goals and types of work
Tech Confidential – A 'safe space' to ask tech-related questions in confidence, without fear of looking dated.
Totaljobs group sales director, John Salt, said: "Our research revealed some of the serious concerns facing employees and prospective employees with regards to getting older in the workplace and we believe that our office creation lays the path for a future geared towards this labour market shift. However, this office is not just for older workers – it's about creating an environment in which everyone can thrive, learn and be healthy together, regardless of age.  For every negative connotation associated with older workers, there are benefits. Experience, confidence and knowledge naturally grow with age and our office is just as much about preserving and celebrating these qualities than managing decline."