January 30, 2017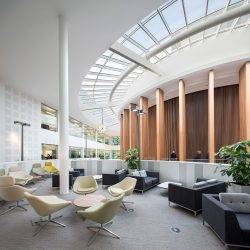 The UK Government's groundbreaking One Public Sector Estate (OPE) project now includes around three quarters of the country's local authorities following the announcement that a further 79 councils will join the programme. One Public Estate is a national programme jointly run by the Cabinet Office Government Property Unit and the Local Government Association (LGA). It supports joint working across central and local government to release land and property and boost economic growth, regeneration and integrated public services. It encourages public sector partners to share buildings, transform services, reduce running costs, and release surplus and under-used land for development. Partnerships joining the programme will receive funding and practical and technical support to unblock barriers and deliver ambitious 'transformational projects'.
Launched in 2013, One Public Sector Estate has grown from the original pilot scheme of 12 councils to 255. £3.6 million has been allocated to councils across new and existing partnerships on the programme. The latest funding round means that by 2019 to 20 the partnerships on OPE expect to:
create 44,000 jobs
release land for 25,000 homes
raise £415 million in capital receipts from land and property sales
cut running costs by £98 million
The funding will support public sector partnerships to work collaboratively on land and property initiatives, generating new jobs and homes, creating more joined up public services to local communities, and delivering savings for the taxpayer.
The Government claims that OPE remains firmly on track to achieve the ambition of 95 percent of councils on the programme by 2018, with 72 percent of councils across England now delivering through OPE.
A further application window for councils wishing to join One Public Estate will be open in April 2017. To find out more about the programme, email onepublicestate@cabinetoffice.gov.uk.
The full list of new councils on the One Public Estate Programme can be seen here.
Image: Derby City Council by Corstorphine + Wright