January 30, 2017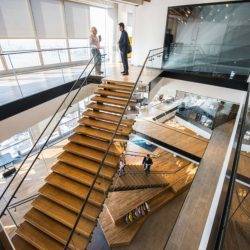 This month, The Boston Consulting Group (BCG) opened its doors to its latest office in what's been described as the new heart of New York; namely, the up-and-coming Hudson Yards development. Thought leaders from the world of workplace design including a representative from including Workplace Insight were invited to the launch of the new workspace to find out how the world's leading advisor on business strategy has pushed the art and science of workplace design. BCG, which is consistently ranked near the top of Fortune's annual Best Companies to Work For survey, worked with an array of experts for input into the design and use of innovative technologies, including Gensler, Humanyze and Unwork. Leesman was brought in to offer a neutral voice when the project was already in motion to validate the design proposal.
Ross Love, BCG's managing partner for New York, took on the additional role of tour guide for the evening. As he walked the troop of thought leaders on the future of work and office design around the space, the collective explored;
how innovations in interior architecture, workplace design and technology are transforming corporate cultures by increasing spontaneous interaction, promoting collaboration and reinforcing a sense of community
how premier employers are getting their employees to want to spend time in the office, making the workplace more enjoyable and creating a competitive advantage for attracting and retaining talent
how leading-edge companies are recognising workplaces as a tool in business performance and competitive advantage
"Employers appraise employees every year to see whether they are fulfilling the requirements of their roles," said Tim Oldman, Leesman CEO, during the post-tour panel event. "But they rarely appraise the business space to find out whether it is effectively supporting the employees in question."
BCG, it seems, may be one of the rarities.
A conduit to drive organisational change:
The business consultancy engaged with its employees from the outset to determine what people wanted from their office. The data harnessed via Leesman's global workplace survey during the pre-occupancy phase also identified areas for improvement. BCG listened to what their employees had to say in order to create a workplace that really works for the people operating within it.
"The office of the future is not a place where people come just to do work. It's a place to make personal connections with colleagues," said Ross Love. "We wanted to create a significantly higher level of unplanned collisions to transform our office culture."
Setting out to empower employees to work when, how and where they choose, BCG worked with its design partners to achieve four key goals: collaboration and connectivity, a wide variety of flexible spaces, seamless technology, and a compelling experience for employees and guests. BCG wanted to offer a high level of variety to reflect the fact that different people work best in different ways. The office features numerous landing zones, all designed to encourage casual collisions and cross-collaboration between teams, and there's an array of flexible spaces to suit a multitude of workstyles and activity portfolios. Employees are actively encouraged to choose the right environment for the specific task in hand.
Having analysed the work habits and needs of the workforce, BCG decided it needed very particular things in order to execute the best possible work environment. They then went out into the market to scope out the options but, on more than one occasion, the market couldn't deliver. Instead of letting the absence of solutions limit the scope of possibilities, BCG built the things they required themselves. For instance, they developed their own bespoke app so employees could assign themselves a workspace or find their colleagues.
The BCG executive leadership team believes that a flexible and adaptable environment fosters a strong, connected community and encourages creative, team-oriented problem solving.
Connecting workplace strategy to performance:
A model that seeks to connect workplace strategy to performance was At the heart of BCG's approach, which went beyond the traditional focus on cost management. Its primary considerations: driving performance and, ultimately, investment value.
That said, the firm made a number of decisions to keep expenses down and ensure a relative cost reduction: selecting an emerging rather than an established location, creatively designing high-value collaborative spaces to reduce individual space needs, making senior consultant and staff offices "convertible" so that they can be booked when people are out, and leveraging an electronic room reservation system to allow flexible space use. Because of these decisions, BCG's move to 10 Hudson Yards has reduced the floor space per person by 32 percent, while almost doubling the proportion of seats in collaborative spaces to more than 50 percent.
"The office layout proves that BCG is more concerned about people working effectively together, rather than achieving the highest occupational density," commented Oldman. "BCG possesses a refreshing attitude towards the workplace – viewing it as an asset, as opposed to a liability – further fuels the debate that effective design can be a tool for competitive advantage."
Generating office magnetism:
BCG's key determinants for an effective workspace don't just include great acoustics, light and air quality, but coffee and availability of food also sit highly on the agenda. BCG's centrally-located "High Line Café" offers the staff free breakfast and lunch – but on the condition that they leave their work stations to grab it! This, in its own way, encourages people to take and enjoy a proper break, as well as peer-to-peer socialising throughout the day.
The office promotes health and wellness in multiple ways—with sit-to-stand desks in 75 percent of the open seating, ergonomic furniture, treadmill work stations, and internal stairs connecting every floor—and offers such amenities as concierge services (instead of a traditional reception), lounges and pantries on every floor, wellness/mother's rooms with refrigerators and sinks, shower/changing rooms, gender-neutral bathrooms, and panoramic views of the city through floor-to-ceiling windows.
Local to global:
This beautiful office sports amazing views of the Hudson on every one of the six upper levels of the 52-story tower. However, the real beauty is the way BCG worked with its executive leadership team and suppliers to approach the design from a business perspective. By viewing the workspace as a tool that can potentially aid productivity, BCG looked beyond the beauty and instead questioned how the design of the space could further support the people working within it.
The new office is part of a firmwide strategy to create a vibrant, enjoyable workplace experience that will inspire people to build relationships and share insights to deliver outstanding client value.