March 18, 2016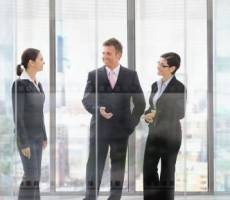 Only 40 percent of executives say their organisation helps them unlock their potential, according to a new global survey of senior executives. Pay and benefits are just one of many factors motivating these executives; with the most commonly cited motivation "making a difference," chosen by 55 percent of respondents, followed by "personal growth and development," "leading and organising others" and "monetary compensation," each chosen by 45 percent of those surveyed. The wide range of motivations among leaders is underscored by the fact that no single factor was chosen by much more than half of the respondents. The survey by Egon Zehnder, "What Makes You Thrive?" discovered that many executives are leaving their potential at the office door, with 31 percent saying their organisation didn't help unlock their potential and 27 percent not sure. 72 percent of those surveyed said they would welcome more help from their organisation to pinpoint and pursue personal motivations and goals.
"There are a number of critical areas about which organisations and their executives are failing to communicate," said Andrew Roscoe, leader of Egon Zehnder's Executive Assessment and Development Practice and one of the co-authors of the study. "If companies and executives can start to work together to align personal values and career trajectories, there is the potential to greatly increase job satisfaction, retention and performance across the global economy."
Executives feel too much emphasis is placed on moving up the ranks. Seventy percent of respondents believe that there is too much emphasis placed on moving up the ranks, when lateral career movements should be equally esteemed. Furthermore, only 31 percent of respondents believe their organisation has effective ways to reward high performance other than promotion.
"Optimal performance occurs in the overlap between the organisation's needs and the executive's needs," noted Wolfhart Pentz of Egon Zehnder's Berlin office and the study's co-author. "Both sides need to work together to increase the size of this common ground."
The study concludes with seven specific ways in which organisations and executives can improve the current situation. "Too often, professional development is a monologue given by the organisation to the executive. It needs to evolve to a true dialogue," said Andrew Roscoe.
"But that isn't only the responsibility of the organisation. Executives need to take ownership of their own growth and trajectory and be active partners in that dialogue, rather than assume the only options are 'take it or leave it.'"
"What Makes You Thrive?" polled 1,275 senior executives worldwide regarding personal motivations and professional development.