March 18, 2016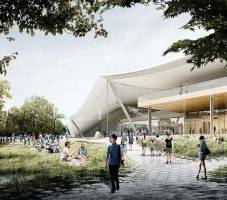 Google's ambitious plans  for a new headquarters complex in California have been dramatically scaled back after the original plans were rejected by the City of Mountain View authorities. The original project came into question last year when it was revealed that Google's plans were seen as overly ambitious given that they were competing for available space with LinkedIn's plans for  an office on adjacent land. The new plans, created by Heatherwick Studio and Bjarke Ingels Group share many of the same objectives however, including an open design, extensive landscaping, a focus on both work and leisure facilities and a flexible and sustainable design. The new schematics present it essentially as Centre Parcs populated by hipsters. As one Insight contributor convincingly argued recently, this sort of design is impressive and ideal for Google but should not be taken as a blueprint for anybody else.
The plans had to be revised when it became apparent that According the city council would only allow the internet giant to develop around 11 acres of land because LinkedIn already had permission to develop 32 acres out of a total available development footprint of 50 acres. This meant Google had to scale back its original plans for four buildings down to one,
The main building in the new plans includes the same mix of offices on an upper floor with open spaces, cafes and retail facilities on the ground floor. The complex will offer around 1,200 car parking spaces but staff will be encouraged to take public transport or cycle to work. The building includes a green roof with spaces allowing staff and visitors to meet in the open air.
The project aims to achieve a LEED Platinum accreditation and includes a solar panel array on the roof which will produce an estimated 45 percent or more of the required electricity for the site. In addition, all rainwater runoff will be collected and reused.