August 23, 2017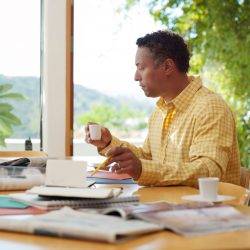 According to FlexJobs' 6th annual survey of more than 5,000 respondents interested in flexible working, 66 percent of workers think they would be more productive telecommuting than working in a traditional office environment. Fewer interruptions from colleagues (76 percent), fewer distractions (76 percent), reduced stress from commuting (70 percent), and minimal office politics (69 percent) are the top reasons people prefer their home office. Only 7 percent of workers say they are most productive in the office during regular hours. The study claims that respondents think they would not only become more productive if allowed to work remotely, but also that they would be more loyal to their employers and would have stronger working relationships.
Additional findings of the FlexJobs survey include:
Work Flexibility Benefits Diverse Audiences
Respondents represent various demographics, such as working parents (35 percent), freelancers (26 percent), introverts (23 percent), entrepreneurs (21 percent), people living in rural areas (15 percent) and digital nomads (12 percent).
Respondents span generations: Gen Z (1 percent), Millennial/Gen Y (21 percent), Gen X (41 percent), Baby Boomer (31 percent) and the Silent Generation (6 percent)
Work flexibility appeals to highly educated and experienced workers. 79 percent of respondents have at least a college degree and 31 percent are senior manager level or higher.
Interest in Work Flexibility is High
Since 2013, work-life balance (78 percent), family (49 percent), time savings (46 percent) & commute stress (45 percent) have been the top four reported reasons people seek flexible work.
Work-life balance (72 percent) was ranked the most important factor when evaluating a job prospect.  Flexible schedule and salary tied as the second most important factor (69 percent).
62 percent have left or considered leaving a job because it did not have work flexibility
100 percent telecommuting is the most in-demand type of flexible work arrangement (81 percent), followed by flexible schedules (70 percent)
More About Today's Flexible Job Seekers
71 percent of today's flexible job seekers have had round-trip commutes over an hour
Of those who telecommuted in 2016, 23 percent telecommuted more this year than last year
97 percent are interested in being a flexible worker in the long-term
Only 4 percent of respondents worry a lot that a flexible work arrangement will hurt their career progression
Employers Experience Bottom-line Benefits from Telecommuters
79 percent  of respondents also say they would be more loyal to their employers if they had flexible work options
73 percent think remote work is conducive to having strong work relationships
29 percent of respondents said they would take a 10 percent or 20 percent cut in pay in exchange for the option to telecommute