July 16, 2020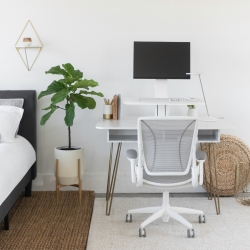 A new survey from Lenovo claims that nearly two-thirds (63 percent) of people feel they are more productive working from home than when they were in the office and half (48 percent) believe they will continue to work from home more than they did. However, the report also suggests that two thirds of UK employees said they had to purchase new technology themselves to work effectively, spending an average of £271 to upgrade or improve technology while working at home.
In addition, 63 percent of UK workers surveyed complain of new or worsening health, including headaches, back and neck pains, difficulty sleeping and more.
Along with physical ailments, workers around the world identified other top challenges to the WFH experience: reduced personal connections with coworkers, an inability to separate work life from home life, and finding it hard to concentrate during work hours due to distractions at home.
Workers also expressed overall concerns overall around security and being heavily reliant on tech connectivity to get the job done. Employees of all ages agree their top tech-specific concern is how it makes their companies more vulnerable to data breaches.
Overall, surveyed employees globally expressed mixed feelings about work in a post-COVID world – while some employees expressed being happy (27 percent) and excited (21 percent) about working from home forever, others feel neutral (22 percent) and conflicted (17 percent).
When asked which emerging technologies would have the most positive impact on their job within the next few years, employees ranked 5G wireless network technology and Artificial Intelligence (AI)/machine learning as their top choices.