March 19, 2019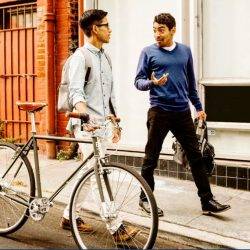 New research from LinkedIn (registration) claims that a third (36 percent) of UK professionals believe their employer does not do enough to support new parents. The release of the figures comes as LinkedIn claims that 18th March was the day that working families only just start getting paid for the year, once growing childcare costs are taken into account. The survey of 4,000 UK workers suggests that professionals feel they are being left in the dark when it comes to parental policies, with a third (37 percent) not even aware of what support their workplace provides for new parents.
At the same time, nearly two thirds (60 percent) said their employer was not completely transparent about its parental policies when they joined. The two biggest challenges facing working parents were identified as flexible working arrangements and the cost of childcare.
Flexible working was cited by 38 percent of workers as the most desirable policy for supporting parents, and LinkedIn's Global Talent Trends report found that nearly nine in 10 (84 percent) UK businesses believe it helps employees achieve better work/life satisfaction.
However, nearly two fifths of women (38 percent) say they feel uncomfortable discussing flexible hours with their boss. The top reasons for this include feeling their employer sees flexible working as an inconvenience (41 percent), fearing they will say no to requests (40 percent), feeling they will be seen as needy for requesting it ( 37 percent), and fearing they will be seen as less productive or committed to their job (33 percent).
When it comes to childcare costs, just 23 percent of UK workers feel it is financially worthwhile returning to work after having a child
When it comes to childcare costs, just 23 percent of UK workers feel it is financially worthwhile returning to work after having a child. The average UK worker feels that covering the cost of childcare comfortably requires a household income of over £55,000 a year, with this rising to £73,000 in Greater London – a far reach from the average salary (£29,832 outside of London and £44,714 in Greater London).
As a result, parents are considering their options after returning to work. A quarter (26 percent) – rising to 29 percent for women – have considered switching careers altogether to find a job that is more accommodating to working families. And half of parents said that they delayed having a child – on average for up to two and a half years – in anticipation of the childcare bills they would have to cover.
Jon Addison, Head of Talent Solutions at LinkedIn UK, commented: "Flexible working is becoming one of the hot topics working parents discuss with their LinkedIn communities. However, our research reveals that many employees still don't feel comfortable talking about flexible working options, and would even consider switching careers to find a job that better matches their family commitments.
The birth of a baby is a life-changing moment and businesses have a huge role to play to help working parents and consider how they can support their employees through flexible working options, whether that be the option to work at home or introducing flexi-time initiatives, or even being open to have that conversation to begin with."
LinkedIn members and business leaders including Anna Whitehouse, founder of blogging platform 'Mother Pukka', working parent campaigner Christine Armstrong, CEO and author of 'She's Back' Lisa Unwin, and executive search business owner David Hunt have been sparking conversation on LinkedIn. They've been opening up the debate about balancing parenting and working life and what businesses can do to support.
LinkedIn is encouraging businesses to join the conversation using #ParentsAtWork. How has your business helped to support working parents and what are the challenges you've faced supporting parents in the workplace? How do you leverage your family policies and flexible working practices to attract candidates and retain top talent?
The findings also revealed that the top workplace perk / policies that would help parents balance work and family are:
More flexible / agile working
A creche onsite or nearby
Paid-for childcare or subsidies
Better maternity or paternity pay
Better pay and bonuses
Equal paternity rights for men