January 31, 2018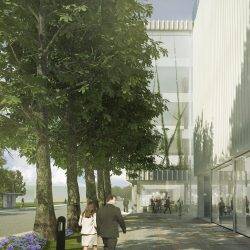 Property developer John Baker, formerly of Baker Lorenz, has launched a new venture to develop a series of new business districts in South East commuter towns and outer London boroughs.  The John Baker Group is working in partnership with building and civil engineering contractor Sir Robert McAlpine on the £2bn project which will see the delivery of some 2 million sq. ft. of new office space across the South East. The joint venture, called The Commercial Parks Group, has already acquired £20m worth of property in Crawley, Haywards Heath and Bromley in order to create a series of major business hubs.
Working with Urban Infill Architects, The Commercial Parks Group has already received its first planning consent, for a 110,000 sq ft office redevelopment in Crawley, 10 minutes from Gatwick Airport. The scheme is the first phase of an ambitious plan to regenerate ageing commercial buildings and on Gatwick Road to create a new business district called Gatwick Park. Furthermore, the group has today submitted a planning application for a 60,000 sq ft second phase of Gatwick Park. In total, Gatwick Park will create around half a million sq ft of new office space, according to the developer.
Plans and designs for Gatwick Park as well as new business hubs in Haywards Heath and Bromley are being drawn up by Urban Infill Architects. The new business hubs in Haywards Heath and Bromley will be named Haywards Park and Bromley Park respectively.