March 6, 2013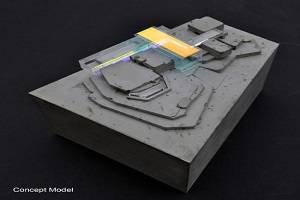 London's Southbank Centre, the UK's largest arts centre, has unveiled plans to transform the Festival Wing – the Queen Elizabeth Hall, Purcell Room and Hayward Gallery complex. The proposals, by FCBStudios, include the refurbishment and renewal of the existing 1960s buildings and the creation of major new arts spaces including a new glass pavilion, a new central foyer and a new liner building to create, together with the successful Royal Festival Hall refurbishment, a world-class cultural centre for the 21st century, providing more art for more people in better spaces.
"It is most encouraging to see momentum developing for the Festival Wing proposals at Southbank Centre said Rick Mather, Southbank Centre's Masterplan Architect. "FCBS has successfully engaged with the challenges presented by the unique and complex 1960s buildings and landscape. They have refined a set of proposals which are based on our agreed Urban Design Principles. The design demonstrates a deep understanding of the current and future needs of Southbank Centre."
The project will bring the performance spaces and galleries up to the standard of the transformed Royal Festival Hall, completed in 2007, and address current urgent problems including poor access, worn out services and the need to upgrade stages, galleries and back stage areas.
Alan Bishop, Chief Executive of Southbank Centre, said: "Feilden Clegg Bradley Studios have magnificently responded to our vision for this part of the site with a design that refurbishes and maximises the potential of the Queen Elizabeth Hall, Purcell Room and Hayward Gallery, while also creating major new glazed spaces that contrast with and complement the existing buildings."
Jude Kelly, Artistic Director of Southbank Centre, added: "We have a vision for the whole site to capture the unique inspiration of the Festival of Britain and build on the great success of our year long festival programmes. We're thrilled with the plans we're unveiling, which reflect our aspiration to give millions of people a new relationship with this extraordinary historic site and provide them with further opportunities to get involved in the arts and culture."
Peter Clegg, Feilden Clegg Bradley Studios, said: "We are delighted to have the opportunity to work with the Southbank Centre team to realise their vision of the Festival site at the heart of the city. It is a real honour to be working on one of the most significant, radical and challenging works of architecture from the 1960s."
From Thursday 7 March, the proposals will be shared in a public exhibition in the Royal Festival Hall and the exhibition will also be available online at Southbank Centre's website.