April 28, 2017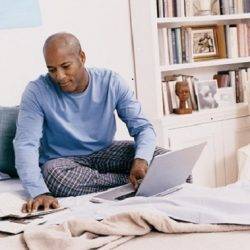 The UK's appetite for remote and flexible working is being hampered by prohibitively slow broadband speeds and poor mobile coverage, according to new research from uSwitch.com. A quarter of employees (25 percent) have experienced issues with their telecoms services over the last year, resulting in a staggering four million being prevented from working from home. In the last 12 months, 43 percent of UK employees have worked from home at least once as people are taking advantage of the increasingly flexible work environments offered by businesses – a figure which rises to 55 percent amongst 18-34 year olds. Yet six in ten (58 percent) have fallen foul of sluggish internet speeds and patchy call quality in the last year alone. The problems have been so severe for half (46 percent) of those with issues that they believe they are no longer able to work from home while these problems persist.
The need for dependable broadband and mobile services is a must-have for a fifth (22 percent) of those who work from home at least once a fortnight. As a result, workers have spent a combined £190 million over the last year on alternative measures to ensure they have had consistent access to internet and phone services. This has included heading to a local café to access Wi-Fi internet, buying a signal booster to amplify their broadband signal and even switching to a new provider in an attempt to get an improved telecoms service.
The most common complaint amongst home working internet customers was having broadband speeds simply too slow for them to work effectively (32 percent), while one in five (18 percent) have suffered from an intermittent connection. A third of mobile users (32 percent) complained that their reception was patchy, while one in ten (11 percent) couldn't get any reception in their home.
Home workers are most likely to use their broadband connection to email colleagues or clients (76 percent), research and browse the internet (69 percent), share files via the cloud (39 percent) and stay in touch via Skype (34 percent). For those that have experienced issues, even these most basic tasks have been affected by a sub-standard internet service. Nearly a third (30 percent) were unable to send a large file to their clients or colleagues and one in ten (9 percent) were on a conference call when it cut out.
Frustratingly, a quarter (25 percent) have had to work late to make up for the lost time and one in five (20 percent) have lost a work opportunity or some business due to a shoddy service. A further one in five (20 percent) have been stopped from working from home completely by their employer.