March 2, 2021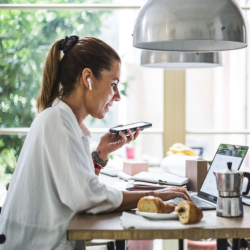 Progress for women in work could be back at 2017 levels by the end of this year as a result of the COVID-19 pandemic, according to analysis conducted for PwC's annual Women in Work Index, which measures female economic empowerment across 33 OECD countries.
For nine years, all countries across the OECD made consistent gains towards women's economic empowerment. However, due to COVID-19 this trend will now be reversed, with the Index estimated to fall 2.1 points between 2019 and 2021. It will not begin to recover until 2022, where it should gain back 0.8 points, but in order to undo the damage caused by COVID-19 to women in work by 2030, progress towards gender equality needs to be twice as fast as its historical rate.
In the UK, the Coronavirus Job Retention Scheme (CJRS) has meant that the pandemic's full impact on the labour market is yet to be seen, but if current furlough data is indicative of future unemployment trends, a larger number of women will face the risk of job loss than men once the scheme ends in April.
Key findings
• While the full impact of COVID-19 is yet to be realised, data suggests that women are more affected by job losses than men in 17 out of the 24 OECD countries that reported increase in unemployment in 2020.
• Between July and October 2020, a total of 15.3 million jobs were furloughed in the UK. For furloughed jobs for which gender was known, 52 percent of these were women's jobs, despite women only making up 48 percent of the workforce.
• In the UK, female-dominated industries, such as accommodation and food services and arts, entertainment and recreation, have the highest share of furloughed jobs in the country.
• The above findings are included in PwC's annual Women in Work Index, our assessment of female economic empowerment, in which the UK attains 16th place out of 33 OECD countries in 2019 (the top three countries are Iceland, Sweden and New Zealand)
• However, the Index is expected to fall this year, and again in 2021 – setting progress for women in work back to 2017 levels. In order to reverse the damage by 2030, progress towards gender equality will need to be double its historical speed.
Larice Stielow, senior economist at PwC, said: "In the UK, women were around a third more likely to work in a sector that was completely shut down during the first national lockdown than men, with accommodation and food services and arts, entertainment and recreation among the most impacted sectors. In October 2020 for example, the accommodation and food services industry recorded both the highest number of furloughed jobs (more than 600,000) and the highest share of furloughed jobs within a sector (40 percent). Women make up 55 percent of jobs in this sector. By contrast, male-dominated industries of manufacturing and construction, both of which have faced fewer restrictions, furloughed only around 7 percent of workers each.
"Losing women from the workforce not only reverses progress towards gender equality, it also affects economic growth. Although jobs will return when economies bounce back, they will not necessarily be the same jobs. If we don't have policies in place to directly address the unequal burden of care, and to enable more women to enter jobs in growing sectors of the economy, women will return to fewer hours, lower-skilled, and lower paid jobs."
In addition, even before the pandemic, women on average spent six more hours than men on unpaid childcare every week (according to research by UN Women). During COVID-19, women have taken on an even greater share and now spend 7.7 more hours per week on unpaid childcare than men – this 'second shift' nearly as much as an extra full time job. The longer this higher burden on women lasts, the more women are likely to leave (or reduce time spent in) the labour market permanently.
While some women may decide to leave the workforce temporarily due to COVID-19, with the intention to return post-pandemic, research suggests that career breaks have long-term impacts on women's labour market prospects. For example, PwC UK's Women Returners study (2016) claims that 60 percent of professional women are likely to return to lower-skilled and lower-paid jobs after career breaks. This means that even if the female participation rate returns to previous levels in the longer term, women are likely to experience a permanent deterioration in their career prospects.
"Women will return to fewer hours, lower-skilled, and lower paid jobs."
Laura Hinton, Chief People Officer at PwC, said: "Based on our findings, there is absolutely no time to lose in addressing the very real impact of the pandemic on women. Governments, policymakers and businesses all have a responsibility to work together to empower women and create opportunities for meaningful participation in the workforce. These players all have a role to play in addressing the gender inequalities in unpaid work, through promoting and championing schemes like shared parental leave, affordable childcare and flexible working arrangements.
"For businesses in particular, it's paramount that gender pay gap reporting is prioritised, with targeted action plans put in place as businesses focus on building back better and fairer. An important action that should be front and centre of these plans is focusing on developing skills and training initiatives that are tailored to the needs of women, ensuring women can access employment in high growth sectors such as technology."
Latest Women in Work Index (pre-COVID-19)
The UK is ranked 16th on the Index against the OECD group of countries, with Iceland, Sweden and New Zealand topping the table in 2019. If female employment rates across the OECD increased to match those of Sweden, this would boost OECD GDP by more than US$6 trillion (£4.63 trillion).
The UK held its second place ranking across the G7, narrowing its gap with Canada in first place and growing at twice the rate of the OECD average between 2018 and 2019, although the COVID-19 pandemic will have reversed these gains.
Despite improvements, the UK lags behind other countries in the share of female employees in full-time employment. In 2019, only 64 percent of women in work were in full time employment, compared to 89 percent of men, meaning that, at historical growth rates, it could still take the UK 32 years to reach the current OECD average.
In the UK, there would be large economic gains from increasing the number of women in work. If female participation rates across the UK matched those of the South West region (the consistent top performer for female participation in every year of the Index), the UK could gain £48bn, which is equivalent to 840,000 jobs.
All regions except Wales showed progress in their Index score between 2018 and 2019, with regions seeing a 2.4 point average increase across the country. However, this growth was not spread equally across regions, with lower growth seen in those regions with the lowest scores. The North West, North East, West Midlands, and Yorkshire and the Humber scored lower than the UK average. Conversely the South West retains first place, followed by Scotland and Northern Ireland.
Image:PwC