January 8, 2019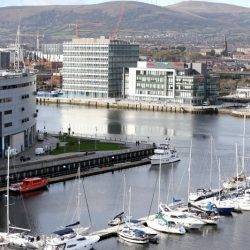 The Northern Ireland office market had a record year in 2018, with a 100 percent increase in take-up, according to the latest figures from CBRE. The Northern Ireland (NI) office sector enjoyed its most successful year on record with 885,023 sq ft of take-up reported across 84 transactions, more than double that achieved last year. Notable office deals completed in 2018 included the PwC move to Merchant Square, Northern Ireland Civil Service at 9 Lanyon Place, Allstate at Mays Meadow, TLT at River House and Baker McKenzie at City Quays 2, which is part of Belfast's City Quays mixed-use regeneration project. However, according to CBRE's Real Estate Outlook report, the office market in NI is hampered by a severe lack of investment deals in the face of ongoing local, national and international political uncertainty. This means that while the real estate market in Northern Ireland generally has performed well in 2018, the investment sector experienced a decrease in activity as a resulting knock-on effect of the current political situation locally at Stormont as well as ongoing Brexit negotiations.
Brian Lavery, managing director at CBRE, commented: "During an unsettling period of political uncertainty, the local office market is an indicator of the health of the Northern Ireland economy, with the professional services and technology sectors in particular leading the way.
"Foreign direct investment in the region remains strong and indigenous technology and professional services businesses are growing as the latest office accommodation results indicate. We believe that Northern Ireland can capitalise on 'north-shoring' opportunities from London and Dublin going forward into 2019 and beyond despite Brexit dominating the landscape because of the supply of talent and the attractive costs base."
He added: "Currently we only have around 250,000 sq ft of Grade A office space available fragmented across a number of buildings underpinning the need for more investment in this space. Alongside this office space growth, we are also seeing the green shoots of demand for residential living in the city centre. We believe this is the trend to track in 2019 and beyond as investors across the UK and globally continue to look for opportunities in this area."
Key transactions include the sale of Metro Building in Belfast to a local investor for £21.8m; Obel Building in Belfast which was sold to the Belfast Harbour Commissioners for £15.2m; and the NCP Car Park in Montgomery Street Belfast to CBRE Global Investors for £18m.
Mr Lavery added: "Larger investments proved more challenging in 2018, as the majority of investors are from outside of the region and have concerns around political issues specific to Northern Ireland.
"However, on a more positive note, we are seeing strong interest from a wide spectrum of investors for office investments in Belfast which is being driven by growing rents and demand, combined with limited supply of high-quality accommodation.
"At present, Northern Ireland does offer a unique investment opportunity, although success will be dependent on a Brexit deal which prioritises the local business and economy."
CBRE research indicates that headline rents will remain at a high level during 2019, with rents for best-in-class buildings achieving £21.00 per sq ft to £23.00 per sq ft.
The Northern Ireland Investment Fund, which was launched by CBRE Capital Advisors at the start of 2018, has proven very successful having already invested 30 percent of the initial £100m allocated. CBRE is expecting to announce a suite of additional loans to fund the development of hotels, high-tech research facilities, energy efficiency and industrial infrastructure with employment space in a variety of locations across Northern Ireland early in 2019.