October 8, 2018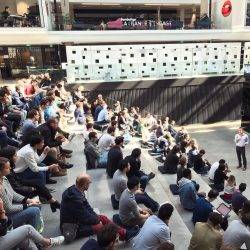 Refurbished industrial sheds provide the perfect space for the creation of modern workplaces, according to a study by Hawkins\Brown and JLL. In what the authors claim is the first comparative study of its kind, Industrial Rehab: A new space of opportunity takes a look at the global trend for companies in the knowledge economy to seek out large-span buildings because they support creative working, are able to accommodate rapid growth and deliver high quality, good value accommodation.
The key characteristics of these buildings can be summarised by the "Three Vs": Volume, Versatility and Value. The  study has analysed 30 successful conversion projects from around the world, represented by 12 case studies that are discussed in detail in a report published jointly by the two companies.
According to the report, the characteristics of the buildings that make them attractive include:
Volume – large spans and high ceilings affect our mood and stimulate creative thinking. Neuroscientists at Rice University in the US have concluded that that the experience of high ceilings activates exploratory parts of the human brain which are instrumental to understanding spatial complexity. These brain activities then evoke the concept of freedom, key to creative thinking. A variety of spaces suited to different tasks can be created by subdividing enclosed spaces more conducive to focus and concentration.
Versatility – constructed with the rigours of industry in mind, refurbished industrial buildings come with flexibility built-in. Robust steel or concrete frames make modification and adaptation relatively straightforward. They also create space for organisational flexibility – companies have room to scale without the need to find new accommodation. In addition their size requires that they are occupied by more than one organisation, allowing communities of businesses to develop into collaborative creative ecologies.
Value – Rehabilitating an industrial building takes it from eyesore to icon. The social value delivered by the regenerative uplift of these projects is hard to quantify, but apparent in the regeneration of run down urban areas and the enhanced competitiveness of cities. The value of the Industrial Rehab case studies was also apparent in their ability to help employers attract and retain talent: these charismatic buildings, sensitively and intelligently repurposed, create unique spaces with high levels of user-satisfaction.
A new metric – One of the leading findings of the study shows that the Industrial Rehab case studies all have a much higher ratio of volume to floor area than typical purpose-built offices, and identifies this as their defining characteristic. As an example, the Broadcast Centre at the recent Here East development in London's Olympic Park encloses more than double the airspace per square metre (NIA) of a typical office. This led JLL and Hawkins\Brown to propose that a new metric of cubic metres per usable area will become an important benchmark for evaluating space as it comes to market, with higher ratios suggesting better suitability for creative work and a more robust environment for businesses in the medium to long term.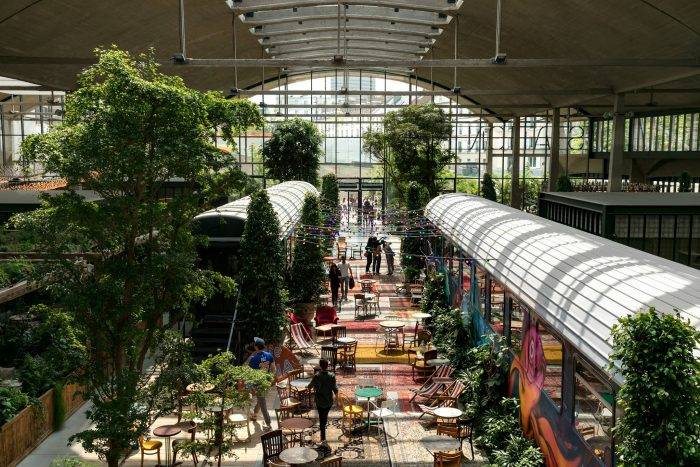 One of the case studies features a warehouse in Los Angeles converted by advertising agency TBWA/Chiat/Day in 1997, which has allowed the business to double in size within the same premises, while keeping their occupancy costs low, allowing them to invest in their core business.
While the cost of industrial rehab typically falls around 11% above the cost of refurbishing an office building and 35% below the cost of a new build, when costs are analysed from a volumetric perspective the Industrial Rehab case studies represent extraordinary value. Due to the huge volumes involved, the average construction cost was £7.18 per cb ft, with individual building costs ranging from £2.85-£16.52 per cb ft. These figures are significantly below typical costs and highlight the advantages of conversion. One consequence of this is the provision of mezzanine floors and other free-standing internal structures, which offer a cost effective way of increasing floor space, therefore increasing occupational efficiency.
More means more – Large volume spaces provide the opportunity for architects to create visually connected environments that encourage collaboration and communication.
By floor area, average occupation densities are 1.8 times more generous in the buildings studied than in typical office buildings. This means workers have more room even by conventional measures. When volume is taken into account the average worker in an Industrial Rehab building has 6 times the space allocation of a worker in a typical office.
Hawkins\Brown and JLL have concluded that there is significant value to be gained from the adaptation of large scale industrial buildings to contemporary work space. These buildings are attractive, perform well in their submarkets, and offer greater volumes and lower densities at lower costs than comparable new build projects. As a result, they have proven incredibly popular with occupiers, particularly from the TMT sector.
In addition to contributing to the reinvention of former industrial buildings, some of which, such as Station F in Paris (pictured), form an important part of their city's built identity and industrial heritage; the learnings of Industrial Rehab have the potential to influence new build projects in locations where refurbishment candidates are scarce. Sectors across the knowledge economy, including life sciences, media, R&D, software and tech all value opportunities for creative and collaborative working and in response Hawkins\Brown and JLL have developed an "Anatomy of industrial rehab", providing architects and developers with the basic components that combine to create this kind of workspace.